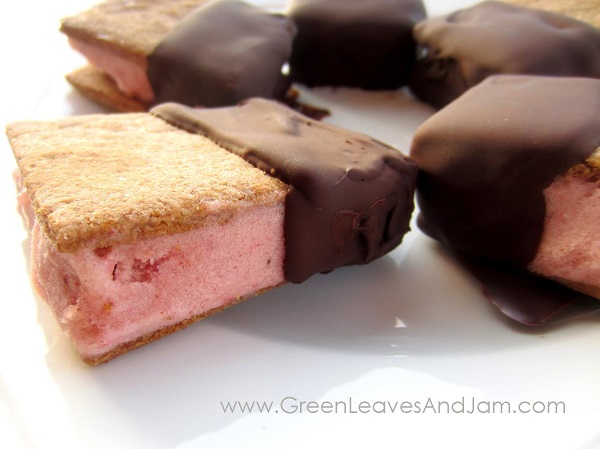 I love summer! I grew up in Florida and Texas and because of this I have developed a love for warmer weather. I didn't realize how much of a love I have for warm weather until I went out to college (In Idaho, and then in Utah) where the weather sometimes(often times in Idaho's case)  would get below zero degrees! I remember my first semester of college just loving all the snow, but that wore off pretty quickly. I can imagine that if I liked to do winter sports, such as skiing or snowboarding, I might like the snow more. However, seeing as how I could hardly even WALK on the snow, there was no way I was about to stand upon a slippery board and place myself on top of even the smallest hill. As you can guess, I've never gone skiing or snowboarding.
Back to talking about summer. Although yes, it's really hot, I love taking my daughter to the pool and eating frozen treats.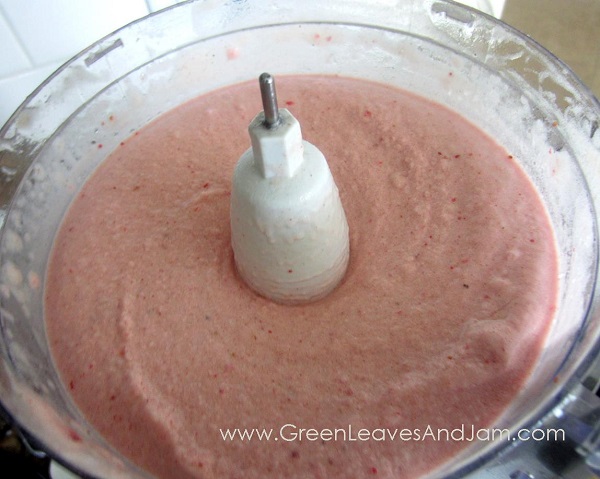 When I made this recipe I made a really large batch of the ice cream because I knew that my daughter would really appreciate it in ice cream form, sherbet form, popsicle form, and then the decadent version – chocolate dipped strawberry and banana ice cream sandwiches. I highly suggest you try all 4 versions!:)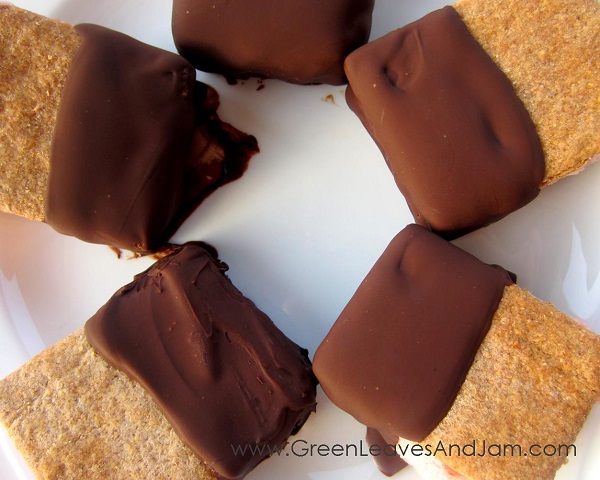 The chocolate dipped strawberry and banana ice cream bars are so tasty! I really enjoy them. I like is that they're a much healthier version of a regular ice cream bar. I also liked that this dessert didn't feel heavy, but yet I was really satisfied with just eating one of them.
Here is how to get all 4 versions:
Ingredients:
When I made it I used 6 frozen bananas, and 6 medium-large frozen strawberries and 1 tsp vanilla (if you would like it to be a little sweeter you can also add in 2-3 tbsp agave). I placed it all in my food processor and blended it until it was smooth.
Instructions:
1. Strawberry and Banana Ice Cream:  Eat it immediately after blending and it will be creamy and soft-serve-like in texture.
2. Strawberry and Banana Sherbert: Once you've blended the bananas, strawberries, vanilla and agave in the food processor, place it in your freezer for couple of hours or until it is firm like sherbet.  It is now ready to eat. (It will stay in the sherbet texture once it frozen again).
3. Strawberry and Banana Popsicles:
Blend the bananas, strawberries, vanilla and agave if you wish to add it, in your food processor until smooth.
Take the ice cream mixture and pour into Popsicle molds. Place them in your freezer and let them freeze for a couple of hours. When they are fully frozen, they are ready to eat!
4. Chocolate Dipped Strawberry and Banana Ice Cream Sandwiches (Makes 6-8 Sandwiches):
First, make your strawberry and banana ice cream in your food processor according to the instructions above (If you are only wanting to make the sandwiches I would probably just use 3 frozen bananas, 3 medium-large frozen strawberries and 1/2 tsp vanilla so you don't have a ton of leftover ice cream/sherbet). Place the mixture into the freezer and allow to firm up a bit.
Make 1 batch of Chocolate Covered Katie's Secretly Healthy Graham Crackers, let them cool and then place them into your freezer for a bit so they will be cold and not melt your ice cream.
After about 10 minutes of letting the graham crackers sit in the fridge, pull them out and assemble your sandwiches. Hold one graham cracker in hand and spoon some ice cream into the center of your cracker. Make sure you get it thick enough, no one wants an ice cream sandwich that is mostly cracker after all! Place your 2nd graham cracker on top and fix any spots that need to be smoothed out.
  Place them back in your freezer while you make the chocolate for dipping.  In a small, microwavable bowl melt 1/2 cup chocolate chips and 2 tsp coconut oil  and stir together. Remove your ice cream sandwiches from the freezer and drizzle/spoon the chocolate onto the sandwiches. Place them back in the freezer on a tray for about 10 minutes and then you can remove them and they can be stored in a freezer Ziploc baggy until you are ready to eat them!
*In case you are wondering, yes, the graham crackers stayed crunchy even after being frozen and such.
The sandwiches were inspired by http://www.lecremedelacrumb.com's chocolate dipped strawberry (greek yogurt) ice cream sandwiches.

Please come back and let us know what you thought about them!
Kristin