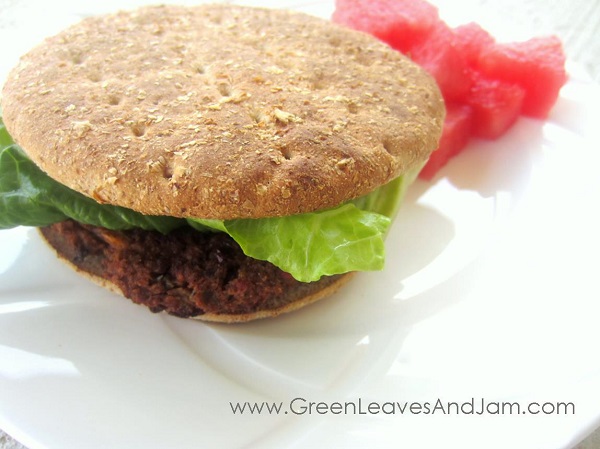 We had the missionaries from our church over last night for dinner. We love having the missionaries over because it's always fun to see their reactions to the food that we make. Last night was especially fun though because one of them was surprisingly interested in the way we eat. Not only that but he started requesting recipes from me! Very different from the normal reactions we get.  He also stated over and over how much he LOVED these chipotle black bean burgers and made me promise to bring the recipe for him to church this Sunday. That made my day. One more thing: He also stated at the end of the evening, after having some of our dessert as well, that he thinks our house might be his favorite one he's eaten at so far (they usually eat at a family's house from our church pretty much every night). Great compliment.:)
That being said, we LOVE bean burgers! These ones are especially tasty because they are filled with great flavorful veggies and beans and have some chipotle powder in them that gives them a nice kick! Here is the lovely recipe:

Chipotle Black Bean Burgers
Makes 10-12 burgers
Author:
greenleavesandjam.com
Ingredients
½ cup vegetable broth
1 large onion, chopped
1 red bell pepper, seeded & chopped
1 green bell pepper, seeded & chopped
4 cloves garlic, minced
2 tbsp tomato paste
1½ tbsp dijon mustard
2 tsp cumin
½ tsp sea salt
1 tsp chipotle powder
1½ cups frozen corn, prepared in microwave according to package directions
1 can black beans, drained and rinsed
1½ cups plain breadcrumbs
Directions
Preheat oven to 450 degrees.
Chop the onion and both peppers and place in a saucepan with the vegetable broth. Cook over medium-high heat for about 7 minutes or until they are looking tender. Watch the vegetable broth and add more as needed. Don't let your veggies burn to the pan! Add the garlic, tomato paste, mustard, cumin, sea salt and chipotle powder and stir.
Remove the pan from the heat and let sit for a bit to cool.
Microwave the corn then set it aside.
Drain and rinse the black beans. Add the black beans, along with the cooked veggie/spices mixture to your food processor. Pulse it until they are pretty well combined, but still have some chunks left. Add in the cooked corn and pulse for another 7 seconds or until they are incorporated throughout the mixture.
Remove this mixture from the food processor and place it into a medium size bowl. Add in the breadcrumbs and mix well. When you are adding the breadcrumbs, add the last ½ cup slowly. I like my bean burgers to be a little more dry than some might, so add that last ½ cup slowly and watch it to see if you would prefer to have less and have them be a little more wet.
Lightly grease a baking sheet and spoon some of the mixture(the amount you want for each burger) onto the pan, then using a spoon, shape the burgers into patty-shape. Place in your oven for 15 minutes at 450 degrees. Remove them from the oven and flip the burger patties to let them cook on the other side. Cook in the oven for another 15 minutes (totaling 30 minutes in cook-time). Remove, let cool, enjoy with your favorite burger toppings!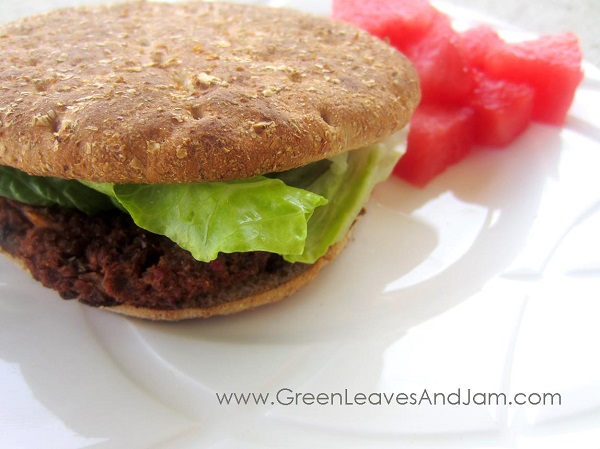 Give these chipotle black bean burgers a try then come back and let us know what you think! Can't wait to hear back from you!
Kristin