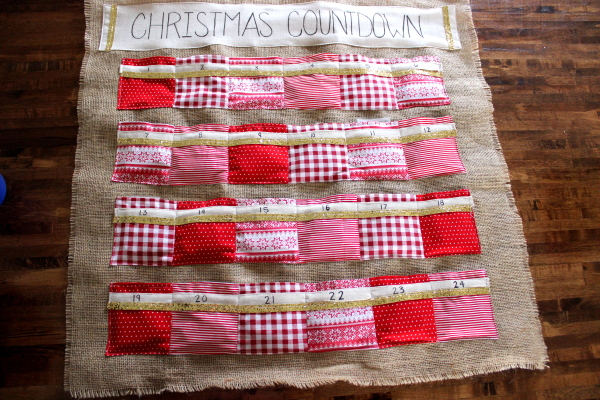 Oh ouch. I had just finished typing up this entire post.. and somehow it didn't save and I lost it. Sad day! Hopefully I can type it all up again and not miss anything! Let me know if anything doesn't make sense.
I am so excited that I finally have an advent calendar for my family! My kids are getting old enough where we can really start establishing the traditions we want to have in our home. I saw lots of cute advent calendars online but I found one in particular that I liked and re-made it with my own little twist to it. Here is the link for the original though in case you just want to buy yourself one: https://www.etsy.com/listing/163092493/christmas-advent-calendar-scandinavian?ref=shop_home_active
My advent calendar has a scripture for each day, 1 chocolate per person per day, and a task/activity per day. I chose to type them up and laminate them. I laminated the pieces by using this contact paper. I just bought it from Walmart. I cut out my little activities and scriptures,  then cut the contact paper to size (2 sheets), peeled back the backing on the contact paper and placed the scriptures and tasks onto it. I then peeled back the second sheet of contact paper and placed it on top. I used my iron on the lowest setting possible and ironed the sheet between two pieces of fabric (so the contact paper wouldn't melt to my iron). I cut out the pieces, and voila! They're laminated.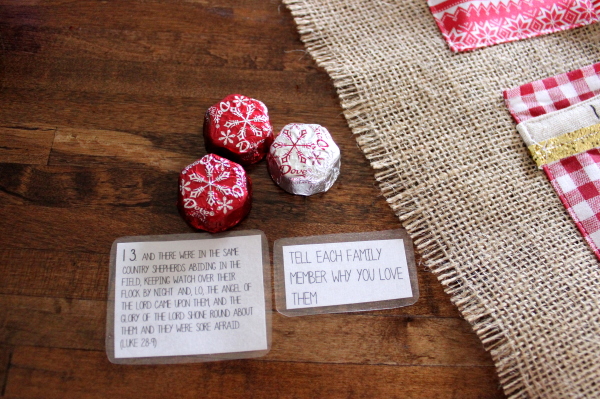 Because I am LDS I decided to use a list of scriptures that included scriptures from both the Book of Mormon and the Bible. I will include a link for a list that is only Bible scriptures as well if you would prefer one of those. I liked the mix of Bible and Book of Mormon for my family because I knew that we would be reading the story of the birth of Christ from Luke on Christmas Eve and I liked that this would be just a little different. I chose to re-type (or rather my awesome husband went onto LDS.org and looked up the scriptures and just copied and pasted them into a file and formatted them for me) the scriptures because I wanted them to fit nicely into my little squares and I also wanted to choose the font. The links I am sharing for both the Bible only version and the BOM + Bible version have the scriptures already written out and ready to just be printed if you would prefer that though.
LDS list of advent scriptures: http://www.thethingsilovemost.com/2011/11/our-other-traditions.html
Bible list of advent scriptures: http://justagirlandherblog.com/diy-advent-calendar-free-printables/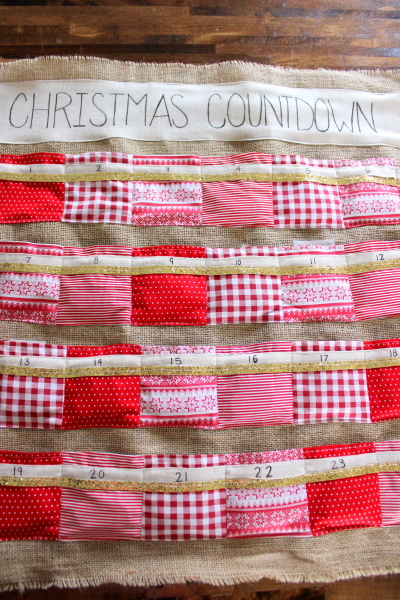 For the activities, I just came up with a list that I felt would suit my family. I wanted things that would bring my family closer to Christ through service, family time and through studying scriptures. I'll include my list so that maybe it can give you some ideas to start with to create one that suits your family. I did copies of a few of them just because.
Go out of your way to serve someone today
Go out of your way to serve someone today
Go out of your way to serve someone today
Be extra forgiving today
Be extra nice to Sydney today
Be extra nice to Rome today
Be extra nice to Mom today
Be extra nice to Dad today
Play a game as a family today
Make a treat to bring to a neighbor today
Tell each family member why you love them
Call a grandparent today and ask them for a favorite Christmas memory
Perform an act of service for a sibling today
Say your prayers only giving thanks today
Pray out loud and have a more meaningful prayer today
Study scriptures for 10 extra minutes today
Study a Christlike attribute today using scriptures and/or conference talks: Faith, hope, charity and love, virtue, knowledge, patience, humility, diligence, obedience
Perform an act of service for a sibling today
Write a letter to a missionary today
Write down what you are thankful for
Fully Set the table and have a special meal today as a family
Write a note (or e-mail) to grandparents and tell them why they are special
Leave a note and money on a vending machine / redbox / some other kiosk for someone special to use
Take in your neighbor's trashcans
Shovel snow from your neighbor's driveway or rake the neighbor's yard
Happy Holidays to all!
P.s. tomorrow I will be posting the felt Christmas tree that I made for my kids, so check back for that one!