Mmm. I love soup. Am I the only person that likes soup in the summer? Maybe. Either way, I figured that we're starting to get into fall-ish time and figured I could start posting fall foods.  I have already begun researching halloween costumes, fall decoration ideas and any kind of recipe that is made with pumpkin. I LOVE the fall! I googled it online and found out that the official start date of fall this year is September 22nd.  May the fall festivities begin!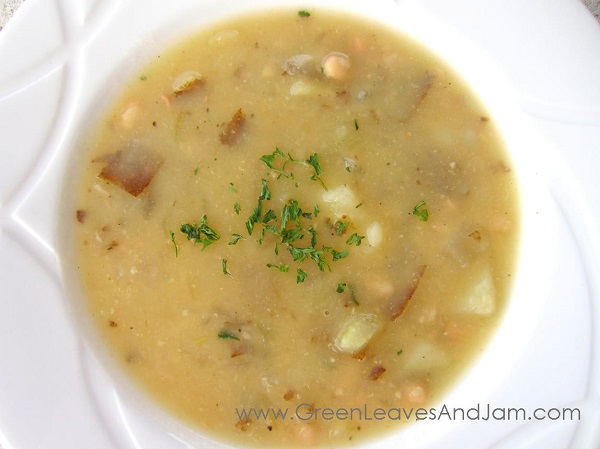 This soup is a wonderful way to welcome fall. I love potatoes in my soup and the beans really add another great texture to the mix.  Another thing that I really like about this recipe is that there aren't a million ingredients like some soups tend to have. It's pretty simple. The second thing I love is the cost of making this soup. For the amount of soup that it makes, it really doesn't cost much because the bulk of the soup is potatoes.

Chunky Potato and White Bean Soup
Author:
greenleavesandjam.com
Ingredients
1 large onion, chopped
2 stalks celery, chopped
4 cloves garlic, minced
3 lbs russet potatoes, chopped into bite-size pieces
4 cups vegetable broth
3 cups water
2 cans navy beans
¾ tsp dried parsley
salt and pepper to taste
Directions
In a large pot, cook the chopped onion for 5 minutes or until it starts to become clear.
Add in the celery and garlic and cook for another 3 minutes.
Add your chopped potatoes, vegetable broth and water, and bring it to a boil. Place a lid on top with it tilted so some steam can escape. Let it cook at a low boil for 15 minutes or until the potatoes are cooked through.
Add your beans and parsley and let it cook for another 5 minutes to warm the beans.
Let it cool, salt and pepper each individual bowl and serve.