I love pancakes. If you don't already know this about me, then you will quickly learn this fact as you check out our blog. We have pancakes every Sunday. I used to make homemade maple syrup..you know the stuff that is 2 cups of sugar with 1 cup of water.. yeah that stuff. We also are big fans of peanut butter slathered on top of our pancakes too. When we decided to make a healthier jump I wanted something I could use to top our pancakes with. I don't like paying the money for real maple syrup, so I knew I needed to come up with a new solution. Then it dawned on me. Why not combine the two, peanut butter and syrup! I then came up with the wonderful idea of having a Peanut Butter Syrup!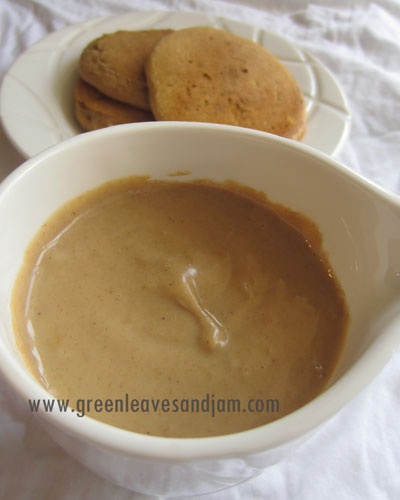 I tested this recipe at least 6 different times just trying to get the texture right and I believe I have finally championed it! This syrup has minimal sweetener, and therefore is definitely healthier than your typical store-bought syrup. It has such a great creamy texture and makes for an awesome party in your mouth for every bite!

Homemade Peanut Butter Syrup
This amount tops about 12 pancakes
Author:
greenleavesandjam.com
Ingredients
1 cup unsweetened non-dairy milk (I use soy milk)
½ cup peanut butter
1-3 Tbsp agave
1 tsp vanilla
a pinch of salt
Directions
Place all the ingredients in a sauce pan and heat over medium heat for 3-5 minutes or until desired texture. Don't let it boil or it becomes too thick. Remove from heat and let cool.
The top will glaze over, so stir as needed.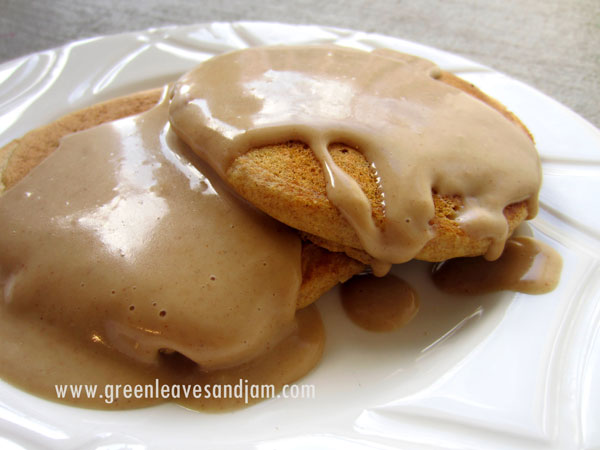 I can only imagine what this homemade peanut butter syrup would taste like on top of banana pancakes! Yumm!
What are your favorite pancake toppings?
Enjoy!
Kristin