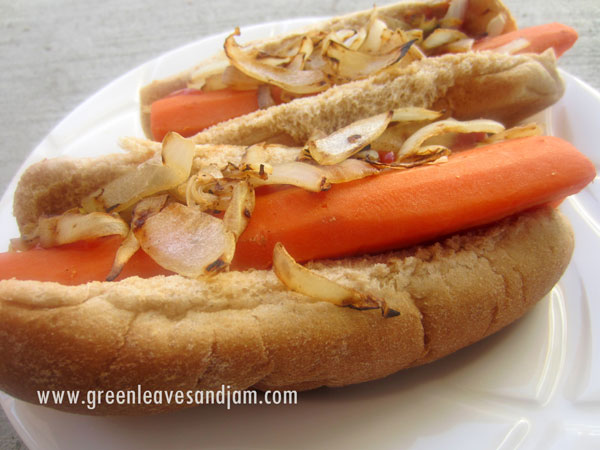 My husband was really reluctant when I mentioned that I had planned carrot hot dogs for one of the meal for that week.  He isn't much of a carrot fan, but I decided that I really wanted to give it a try anyway. What was the verdict? He really liked them! We both felt that you can't really tell that it's really carrots and not hot dogs unless you are eating a really large chunk. Just be sure that your carrots aren't like 2 inches thick like a few of ours were and you'll be just fine! We even joked about how we need to have a 4th of July party this next summer and make all of our non-vegan friends our carrot-dogs and some bean burgers!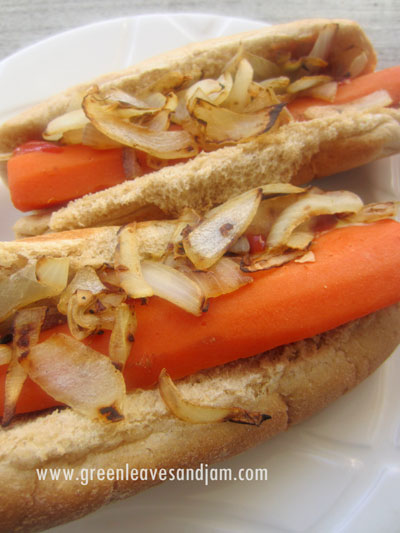 I found the recipe over on kidtestedfirefighterapproved.com and made minimal changes.

Carrot "hot-dogs"
Author:
greenleavesandjam.com
Ingredients
4 carrots
¼ cup apple cider vinegar
¼ cup water
2 tbsp soy sauce
½ tsp garlic powder
¼ tsp onion powder
a couple squirts of liquid smoke (I used mesquite flavored)
pepper to taste
whole wheat hot dog buns
Directions
Cut your carrots so they are the length of your hot dog buns and if they are too thick (bigger than 1½"),you need to split them in half as well.
Place a large pot on the stove and heat to a boil. Add your carrots and heat for about 10 minutes or until you can just get your fork into them. Don't over cook them though because you want them to have a slight firmness to be like regular hot-dogs.
Strain the carrots and run cold water over them to stop the cooking process.
mix the remaining ingredients in a bowl and place in a zip-lock baggy along with your cooked carrots. Let them marinate for 3-4 hours (or up to 2 days).
Once the marinating time is up, place your carrots either in a heated oven or in your toaster oven that has been heated to 350. Cook for 10-15 minutes or until they are fully heated. You could probably also heat them on a grill if you desired that look/flavor.
Add your toppings and they're ready to eat!
I sauteed some onions and had ketchup and mustard on top of our carrot hot-dogs.
What are your favorite toppings for hot dogs and burgers?
Enjoy!
Kristin