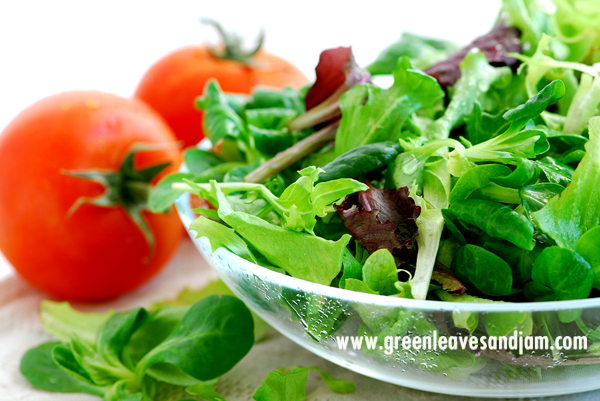 Salads are crucial if you want to get a lot of great nutrients in your body.  But good, healthy dressings can be a challenge.  I created this Dijon Citrus Salad Dressing accidentally when I had some artichoke dipping sauce from one of Dr. Joel Fuhrman's books left over.  The dipping sauce was a little too strong even for the artichokes and we had a lot left over so I started adding to it to create a salad dressing.
Dressings are important!  Salads are great, but it's the dressing that gives them added life.  And dressings can make or break your healthy lifestyle.  We've all seen the reports that tell us that a big salad with lots of oily, high-calorie dressing often contains more calories than a fast-food burger.  Although, I still think there are probably more nutrients in the salad, even if the calorie count is similar or higher.
I was always intimidated by homemade salad dressings.  I'm not sure why. I think salad dressings is one of those things we have gotten so use to buying in the store that we don't remember there is an alternative.  But I don't like using store-bought salad dressings any more, because I have so little control over what's in them.  And sometimes, it seems that the more healthy appearing a store-bought dressing is from the label the less healthy it is in reality when you look at the list of ingredients.  I have one friend that just puts fruit in her salad and skips the dressing altogether.  She swears by this method and even says that bananas are a great addition.  That's an option.
I definitely don't want to be making homemade dressing every night and I doubt you do either, so when you make it, make a large batch and store it in the refrigerator for ready use.  If you make one dressing per week, after just a few weeks, you'll always have three to four different dressings  available at any given time.

Dijon Citrus Salad Dressing
Author:
greenleavesandjam.com
Recipe type:
salad dressing
Ingredients
½ cup Vegenaise
½ cup lemon juice
2 oranges juiced, approximately ½ cup
1 apple peeled an sliced
½ cup raw cashews
2 tbsp Dijon mustard
4 cloves garlic
½ tsp ground pepper
1-2 tbsp agave to taste
Directions
Combine all ingredients in a blender and blend until smooth.
Store in the refrigerator in an airtight container.
Try the Dijon Citrus Salad Dressing and let me know what you think.
What's your favorite salad topper?
Enjoy!  Julie