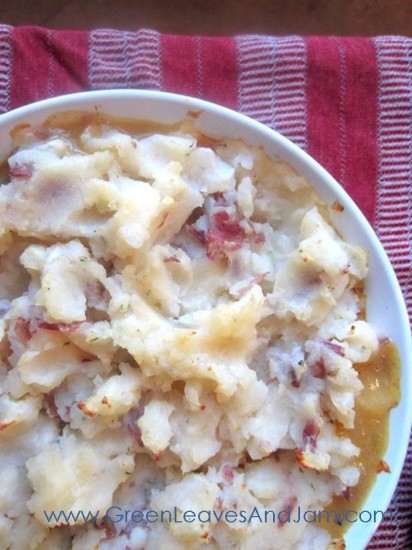 Shepherd's Pie. One of the ultimate comfort foods in my book.
We used to eat it with a bunch of meat in it, so when I came to the realization that one of my favorite dinner-time meals could be made into a plant-based meal, and easily, I was ecstatic! How do you plant-base-erize (new word for the dictionary..lol) it? Just remove the meat.  Simple. In case you're wondering if that then ruins the flavor of Shepherd's Pie, let me be the first to say no it does not! It still has the potatoes, the gravy and the awesome veggies in it that all adds up to making one big spoonful of flavor!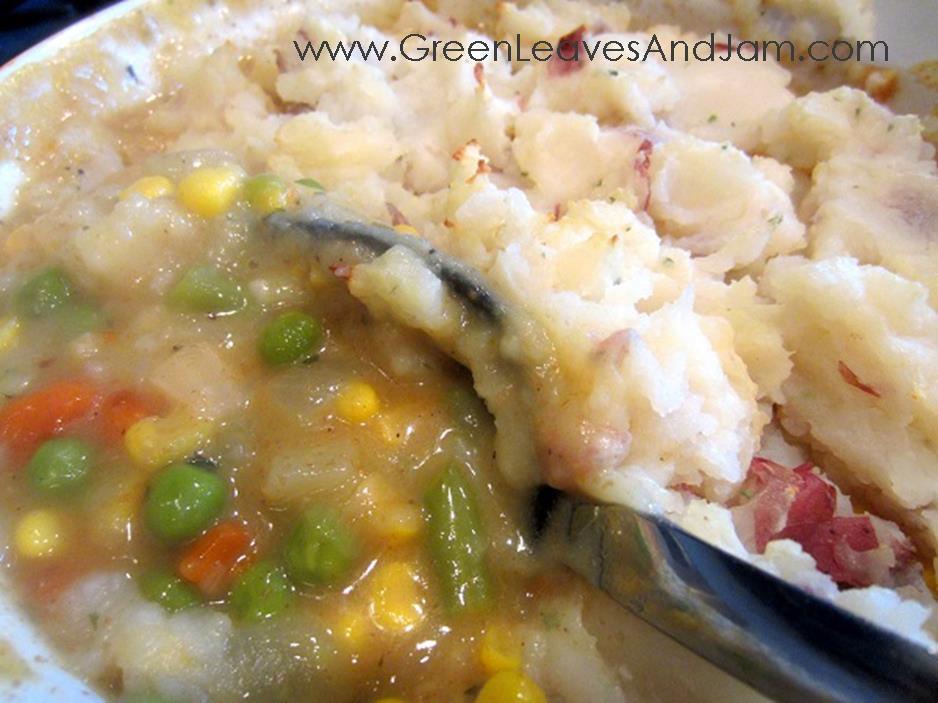 This is a shepherd's pie with a gravy in it, but sometimes I like to have it with spaghetti sauce instead of gravy. I'll have to post that recipe soon as well.

Plant-based Shepherd's Pie
Author:
greenleavesandjam.com
Ingredients
Mashed Potato Topping:
5-6 red potatoes
½ tsp garlic powder
½ tsp onion powder
1 cup vegetable broth
½ tsp sea salt
½ (scant) tsp white vinegar
Filling:
1 onion
½ cup wheat flour
1-2 carrots
1¼ cup frozen corn
1¼ cup frozen peas
1¼ cup frozen or fresh green beans, cut to 1 inch in length
4 cups cup vegetable broth, divided
½ tsp garlic powder
1 pinch dried oregano
2 pinches dried parsley
pepper
sea salt
Directions
Peel as much of your potato as you would like. I like some peel in my mashed potatoes, so I only peel little bits of it. chop the potatoes into chunks and boil in a pot for about 10 minutes or until a fork can go into them easily. Strain out the liquid and place the cooked potatoes in a bowl. Mash the potatoes with a potato masher. Add in the remaining mashed potatoes ingredients and mix well. Cover with a towel and set aside.
Chop the carrot into bite size pieces. Place the carrot in a pot with ½ cup vegetable broth and boil for about 5 minutes. While that is boiling, dice the onion and add it to the pan. Cook for another 5 minutes or until the onions begin to become clear. Add in the wheat flour and stir well. Add in the remaining 3½ cups vegetable broth as well as the remaining ingredients. Stir and bring to a simmer. Simmer for 10 more minutes.
Place the filling in a corning-ware dish, then using a spoon, spoon the mashed potato mixture on to the top of the filling. Spread the mashed potatoes evenly over the filling. Place in the oven at 350 degrees for 10 minutes. Then raise the temperature to broil and bake for another 5 minutes to really crisp-up the top. Remove from the oven and let cool.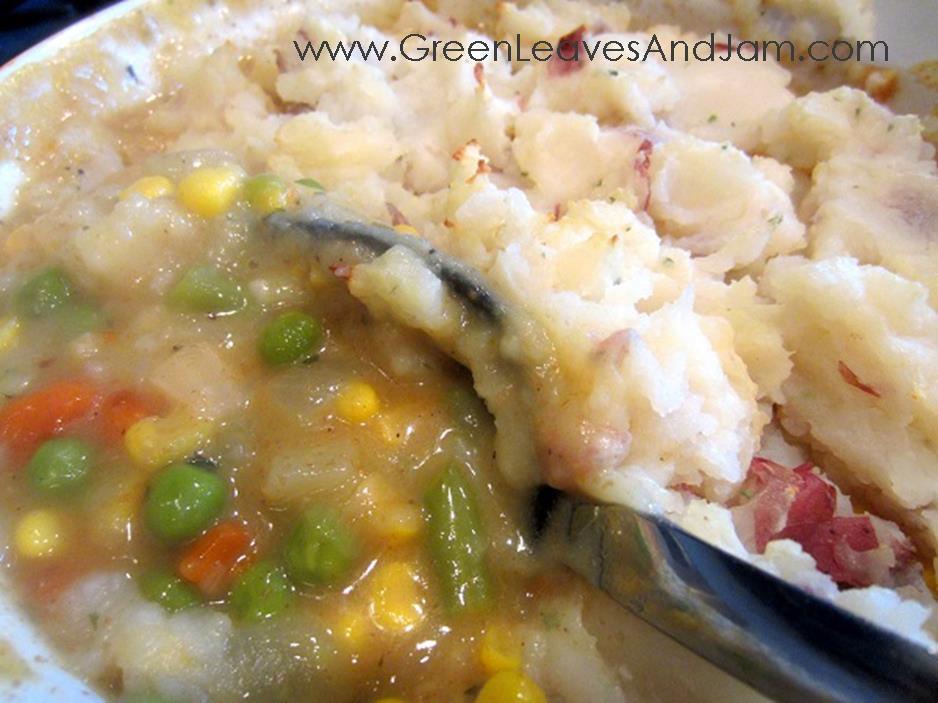 Enjoy some comfort food tonight via this plant-based shepherd's pie, then come on back and let us know what you think about it!
Kristin