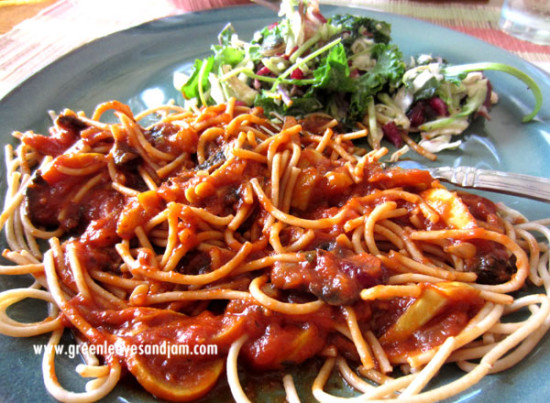 My mother was visiting over the weekend and when I have company I want to provide good meals but I don't want to spend all day in the kitchen.  That's no fun for me or my company, so I'm always on the lookout for plant-based (vegan) dishes that are company friendly.  Not only do they have to be healthy they need to be appealing to those who prefer a steak and potato meal.
Spaghetti is always a favorite.  It's quick and tasty, but just noodles with marinara sauce is a little bland, so I decided to sauté some veggies to include in my marinara.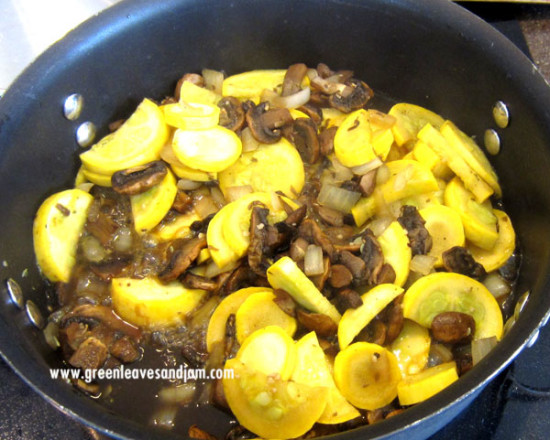 I used chopped an onion, mushrooms and yellow squash and sautéed them in vegetable stock.  Unfortunately, I put the lid on pot and was fussing with the rest of the meal and forgot about them for a little too long.  Oops!  Luckily, I discovered the pan was dry before the whole pot was a goner.  I freshened it up with a little more veggie broth before added my marinara sauce too warm.  All was good.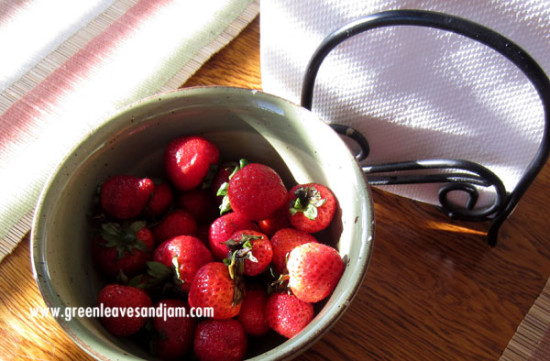 I added a bowl of fresh strawberries to the table.   We also had some bread and salad with the spaghetti.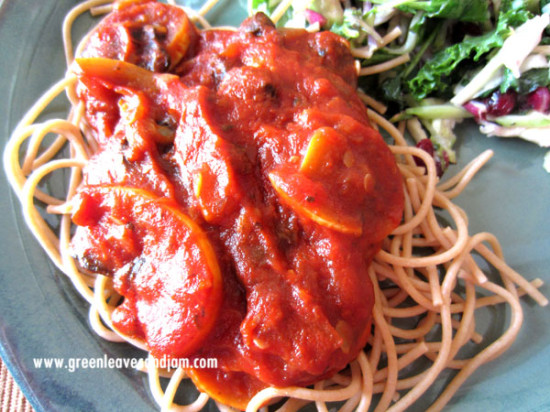 I served the veggie marinara sauce over whole wheat spaghetti noodles.  My meat-loving mother enjoyed the meal, so this will definitely go on my meals-for-company list.  It fit all the criteria: easy, quick and tasty.

Veggie Spaghetti
Author:
greenleavesandjam.com
Ingredients
1 onion
3 yellow squash
6 oz mushrooms
½ cup vegetable broth
1 jar marinara sauce
12 oz whole wheat spaghetti noodles
Directions
Saute chopped onion and sliced mushrooms in vegetable broth until onion is translucent.
Add sliced squash and cook until vegetables are soft.
Add marinara sauce and heat through.
Cook spaghetti noodles according to package directions and serve vegetable marinara over cooked spaghetti.
Enjoy!  Julie