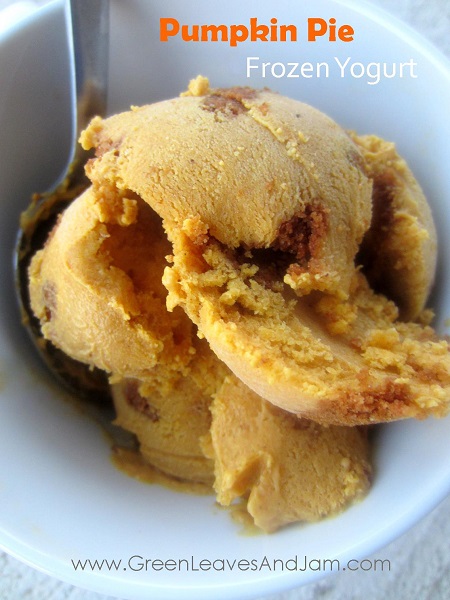 It's October! Have you figured out Halloween costumes yet? I am almost done sewing my daughter's Halloween costume and I'm really getting excited for Halloween. I also have been working on some house decorations that have really put me in the mood for all things fall, and that includes pumpkin.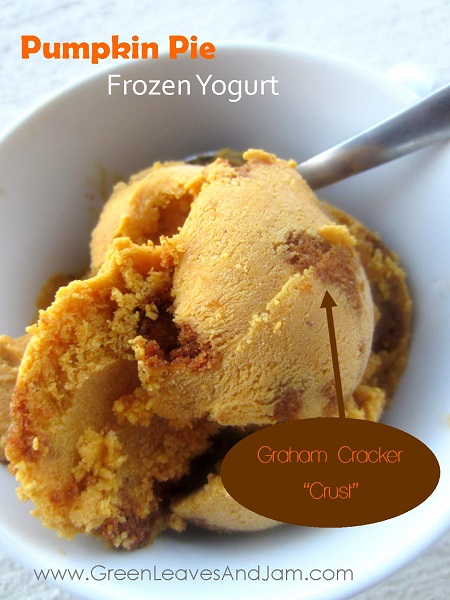 It's still pretty warm here in Texas so it only make sense to make some pumpkin frozen yogurt right? But really. The stuff is so creamy and when it melts it coats your mouth, which I love! I haven't even mentioned the graham cracker crust yet. So flavorful and adds dimension and an extra texture to this flavorful delight!

Pumpkin Pie Frozen Yogurt With Graham Cracker Crust
Author:
greenleavesandjam.com
Ingredients
1 cup soaked cashews + ½ cup of soaking water
3 tbsp oil
¾ cup plain yogurt
½ tsp xantham gum (opt)*
1 cup pumpkin puree
1¼ tsp cinnamon
½ tsp nutmeg
pinch of cloves
3 tbsp brown sugar
3 tbsp agave, or another sticky sweetener
1 cup broken up graham crackers**
Directions
Soak your cashews for at least 5 hours. You want them to blend to be smooth, so the longer they soak the better.
In a blender place the cashews, oil and yogurt and blend until smooth. Add in the xantham gum, pumpkin puree, cinnamon, nutmeg, brown sugar and agave. Blend until smooth again.
Let it blend for another 3 minutes to get some good air bubbles.
Place your broken up graham cracker pieces in a container and put them in the freezer, this way they are frozen cold when you mix them into your frozen yogurt.
Place the blended frozen yogurt mixture into an ice cream maker and follow the directions for your ice cream maker. Once it is done, fold in your frozen graham cracker pieces and place it in the freezer to set.
OR if like me you don't have an ice cream maker, you can just place it in a container in the freezer and go back and stir it vigorously about every 30-ish minutes (helpful hint: I just used my hand mixer and mixed for a minute or 2). Once it seems to be freezing pretty well you can add in your broken up graham cracker and fold them in. Freeze until set.
*The xantham gum helps prevent ice crystals in your frozen yogurt
**I made a batch of ChocolateCoveredKatie.com's Secretly Healthy Graham Crackers (see the link below the recipe) and broke up 1 cup of my graham crackers into little pieces.
Here is the link for those
graham crackers
. They are delicious and I think they're way better than store-bought graham crackers.
Enjoy this awesome pumpkin pie frozen yogurt before it gets too cold! However, is it really ever too cold for ice cream? I didn't think so..
Kristin