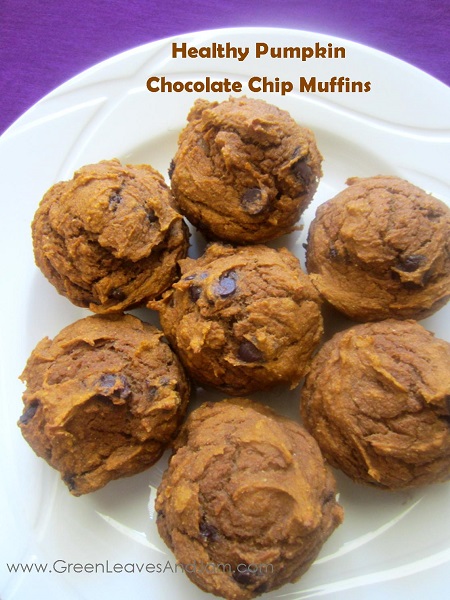 This last weekend we had my husband's family in town and got to watch General Conference for our church. It's basically a biannual conference where you watch 10 hours of great talks from the leaders of our church. We LOVE general conference weekend.  Not to mention the fact that this weekend started a great trend of amazing weather here in Austin Texas! Here are some fun pictures from this weekend:
We also got a bike trailer for the $5 bike we bought 2 weekends ago at a garage sale. I'm so excited to get to use this baby more. And little miss loves it as I'm sure you can tell by her happy smile in this next picture..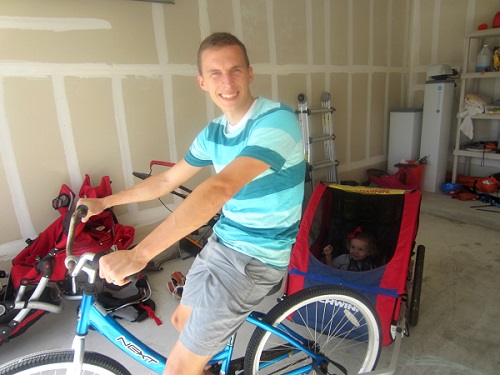 Also, here are a few fun projects that I have recently finished that I thought maybe someone out there might enjoy and get inspired by:
Here is our new Christmas tree skirt that I recently finished.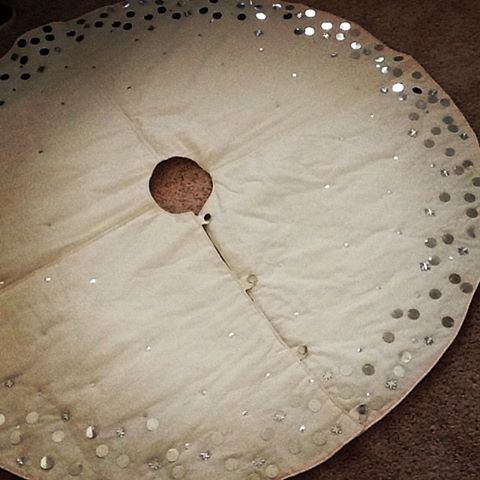 Also, I finished our new baby boy's stocking a few weeks ago and thought I'd share that fun one with you: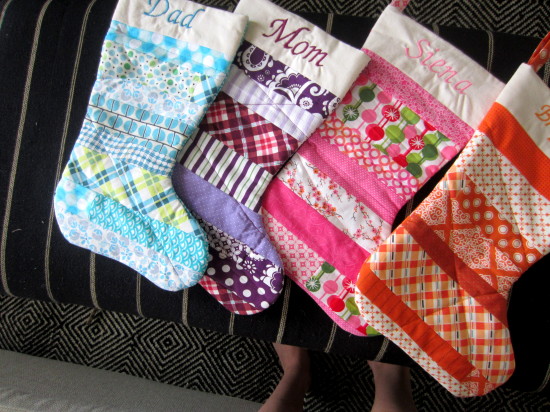 I can't wait for Christmas to be here..can you tell? Anyway. Back to Fall and Halloween and pumpkin chocolate chip muffins..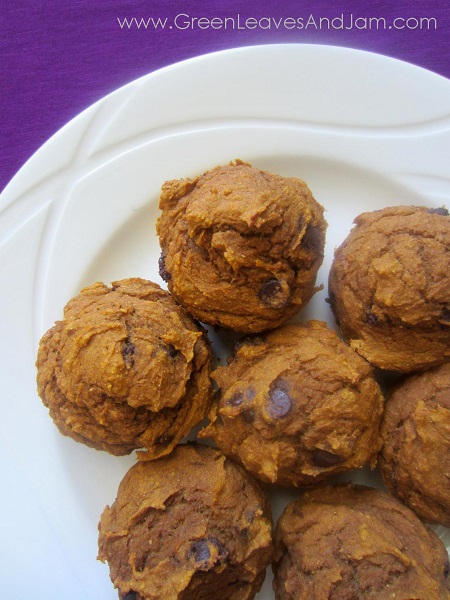 Healthy Pumpkin Chocolate Chip Muffins
Author:
greenleavesandjam.com
Ingredients
2 cups whole wheat flour
1½ tsp baking powder
½ tsp baking soda
¼ tsp salt
⅓ cup packed brown sugar
1 tsp cinnamon
½ tsp nutmeg
pinch of ground cloves
2 tbsp flax meal OR chia seeds
1 15 oz can pumpkin puree
¾ cup plain non-dairy yogurt*
¾ cup vegan milk*
½ cup chocolate chips
Directions
In a medium bowl, stir together the flour, baking powder, baking soda, salt, brown sugar cinnamon, nutmeg, cloves, and flax meal until well combined.
Add in the pumpkin, yogurt and milk and stir again until well combined.
Add in your chocolate chips and stir until they are distributed evenly.
Spoon the mixture into 12 greased muffin tins and cook in your oven at 350 degrees for 20-22 minutes.
Instructions for Pumpkin Chocolate Chip Bread: Follow all the directions for mixing together the muffin mix and then instead of using a muffin tin, spray a loaf pan and pour the pumpkin mixture into your pan and cook in your oven at 350 degrees for 50-60 minutes.
*If you don't have vegan yogurt you can instead replace the ¾ cup non-dairy yogurt and the ¾ cup non-dairy milk with 1½ cup buttermilk. (You can make the buttermilk by stirring together 1½ cup non-dairy milk and 1 tbsp white vinegar)
Hope you have some great plans for this Halloween season and that they include making these healthy pumpkin chocolate chip muffins!
Kristin