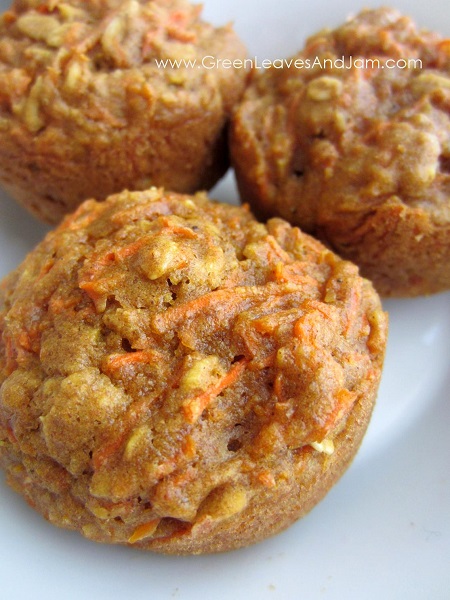 Oh boy! These are so stinkin' good. I really loved every bite of these flavorful muffins. My sister-in-law and I discussed after eating them that we both felt like there was more sugar in them than there was because they were perfectly sweet. They tasted like a yummy (and yet healthy) dessert.  I think that if I ever make them with the intention of not having them as a dessert I may reduce the sugar amount, but for being a dessert, I would say that 1/2 cup brown sugar ain't so bad.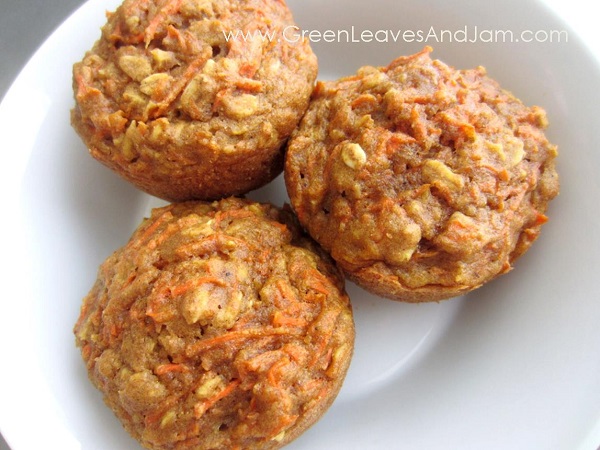 I like the oats in them as well because they make them a little more hearty in texture.  I might also add that they are really moist and fluffy as well, which are wonderful qualities for a muffin to have. I may just try this recipe out as a bread next time.
I also added some chocolate chips to some because I knew that that small gesture would really make my hubby's day.:)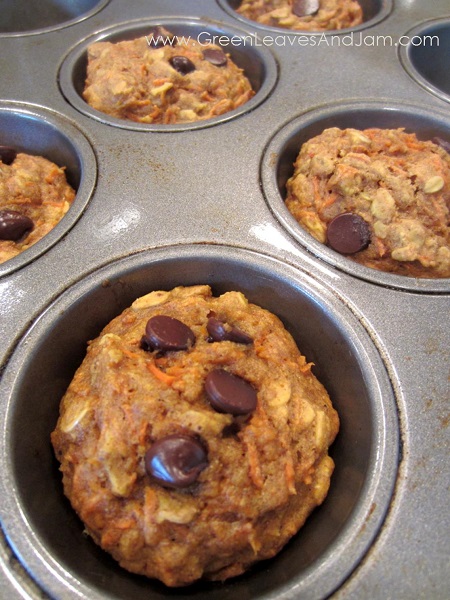 Spiced Carrot Cake Muffins
Author:
greenleavesandjam.com
Ingredients
2½ cups grated carrot (about 2½ large carrots)
½ cup brown sugar
½ cup plain non-dairy yogurt
¼ cup olive oil
1 tbsp flax meal + 3 tbsp water
1 cup whole wheat flour
¾ cup oats
½ tsp baking soda
½ tsp baking powder
½ tsp salt
½ tsp cinnamon
½ tsp nutmeg
Directions
Preheat oven to 350 degrees.
In a medium bowl stir together the grated carrots, brown sugar, yogurt, oil, and flax and water mixture.
When that is well combined add in the flour and oats an stir again until well combined.
Add in the remaining ingredients and stir until mixed in.
Grease a muffin tin and divide batter evenly to get 10-12 muffins (depending on how tall you want your muffins)
Place the muffins in the oven at 350 degrees for 20 minutes.
Enjoy these spiced carrot cake muffins plain(my favorite way), with some butter on top or for an even more authentic carrot cake flavor you could have them with some vegan cream cheese frosting if you would like!
Kristin