It has been a little while since I last posted. Generally I like to post 2 times a week with occasionally only posting once, but it's been what, 2 weeks since my last post? Just wanted to let you know that yes, I am still here. Things have just been super busy over the last little bit.
To be honest, the reality that this baby is coming and SOON has really started to sink in. I have been trying to get lots of things done before this baby comes. I've been doing LOTS of sewing projects and quite a few deep-cleaning projects as well trying to get prepared for this new little baby. Yesterday for example, I finished up a gift I was making for our soon-to-be sister-in-law, finished up Siena's little flower girl dress for my husband's brother's wedding that is in December, and worked on my daughter's Christmas present. I also vacuumed my stairs, the whole upstairs and all the upstairs blinds. Today I swept and mopped out kitchen floor, wiped down all our kitchen table chairs, dusted the downstairs and I have plans to go up and sew some more once I am done writing here. There is something about a baby coming soon that has really given me a big surge of urgency and lit a fire under me to get things done. That being said, I haven't had as much time to blog and cook as I would like to. Yes, I am still making dinner as usual, but it's just some family basics that we do all the time like black bean soup, salads, vegan mac-and-cheese..etc.
P.s. As a little side note: My mom, Julie who also contributes to this website is currently in the middle of moving and has been for a few months now and therefore hasn't been able to post much lately.
I know it's a little overdue, but I figured I would share some fun photos from our Halloween.
My daughter and I went to a little fall festival here in town Halloween morning that was a lot of fun. We got there pretty much as it was starting and that meant that the lines were pretty short. I was happy that the face painting line was only 1 person long because later when I saw the line it was like 20 people long and wasn't moving (they only had 1 painter working..that poor woman!). My daughter was so excited to have her face painted with a butterfly and has since done lots of "pretend play" face painting on my husband and I with her finger being the paintbrush and her hand holding the "paints".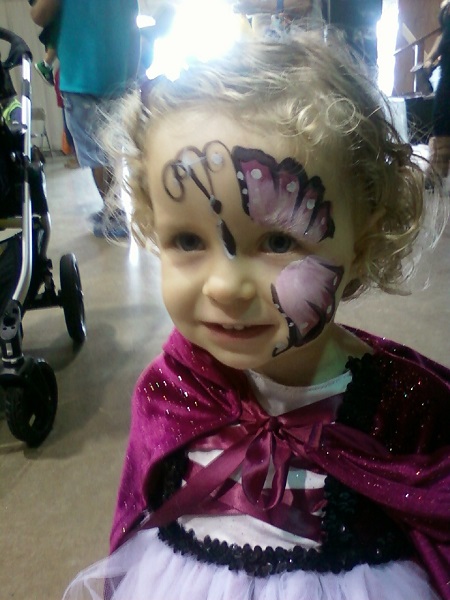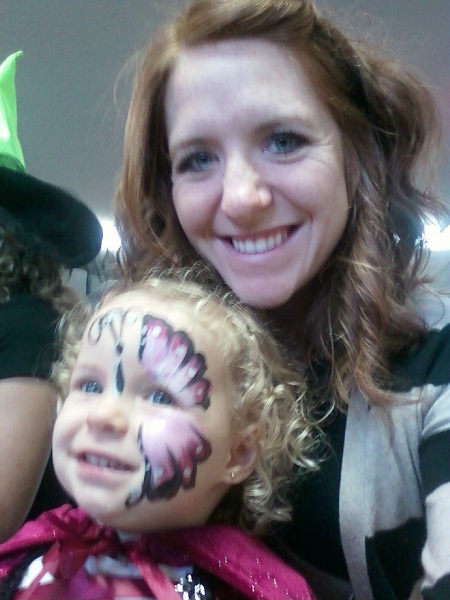 She had so much fun doing all the carnival games and couldn't get enough of them.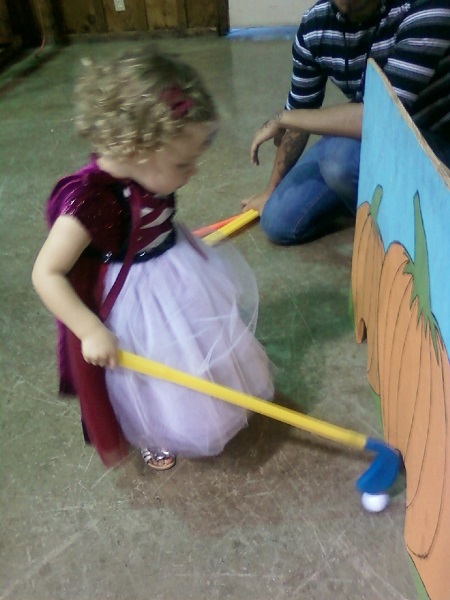 They also had a firetruck there that she absolutely loved getting to climb inside and explore. When they left a little early from the carnival she started crying saying "my firetruck!" T'was pretty funny.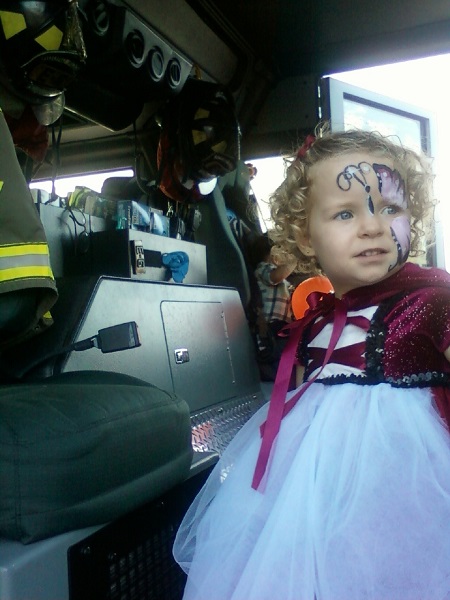 Afterwards we headed over to the local mechanic to have our car checked out, and Siena sat there patiently and ate her muffin. It was great.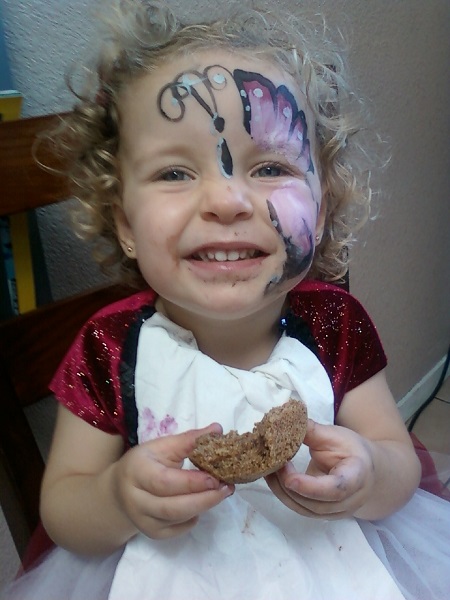 This is what her face painting job looked like by the time we got home…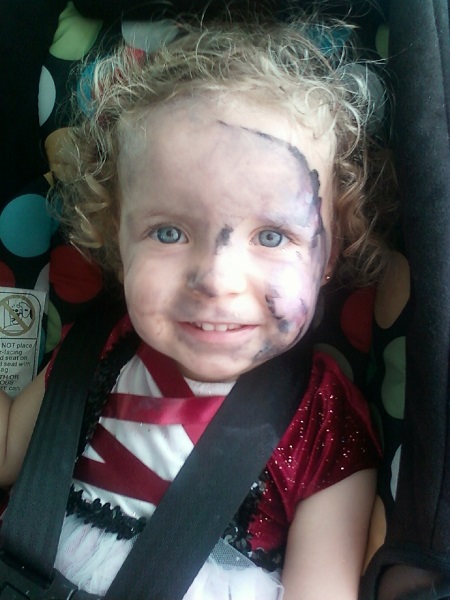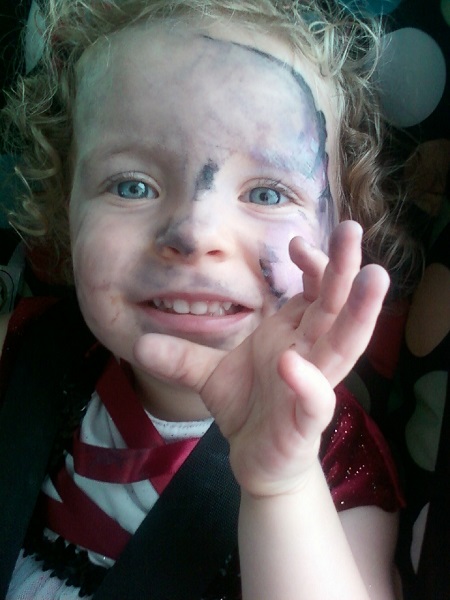 Yikes! Luckily it came off her dress and everything was fine!
We also went trick-or-treating for a bit that night. My daughter was loving it! She was literally running from house to house saying "I go-a next!" Halloween is so much fun when you have little kids!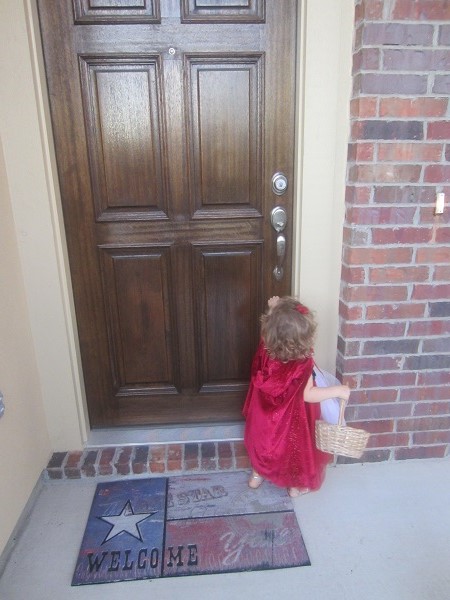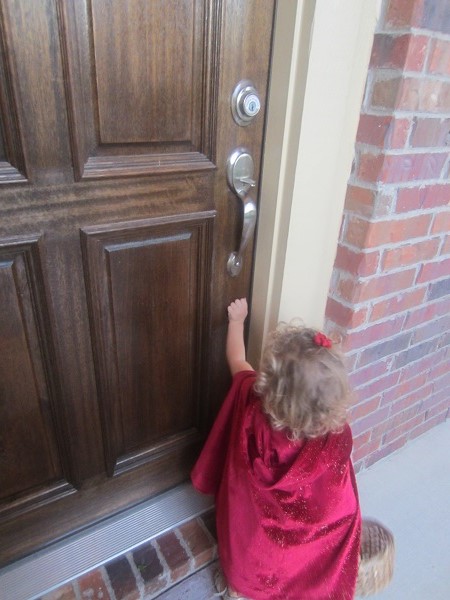 Also, I wanted to let you know what our approach was to Halloween this year. We took her trick-or-treating and she got lots of candy from carnival games and such. I don't mind her having a little candy to be honest. I know there are people that may read this and possibly even think I'm a bad mom for letting her have candy, but I personally feel that Halloween was a fun tradition for me and I don't mind once a year letting my daughter indulge a little in some fun sweets. That night after trick-or-treating she was allowed to have 2 pieces of candy, and then every evening after dinner since then she has had 1 candy (occasionally 2). She knows that she only gets one, and she's fine with that. In fact, she looks forward to her one piece of candy all day. I have lots of ideas on possible ways I want to approach Halloween in the future, but for this year, this has worked great for us. How do you guys like to approach Halloween?
Hope your Halloween was as fun and eventful as ours was.
Kristin