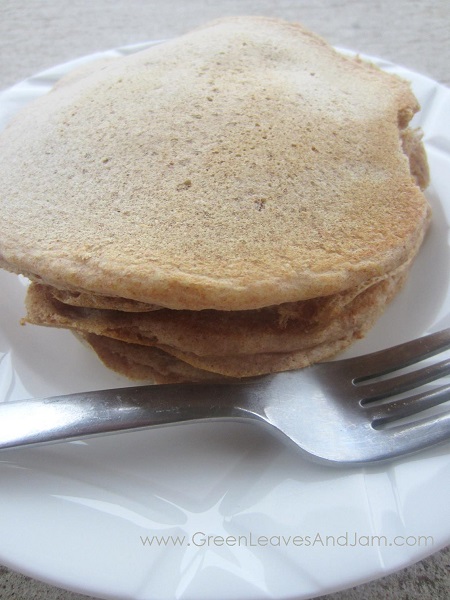 We have a Sunday tradition of having a pancake breakfast. My family and I look forward to this every single week! In fact, my daughter knows that if we get her up in the mornings while we're still in p.j.'s that it's probably Sunday and she begins chanting and cheering "Yay! Pancakes!" Over and over and over again.. 🙂 It's pretty cute.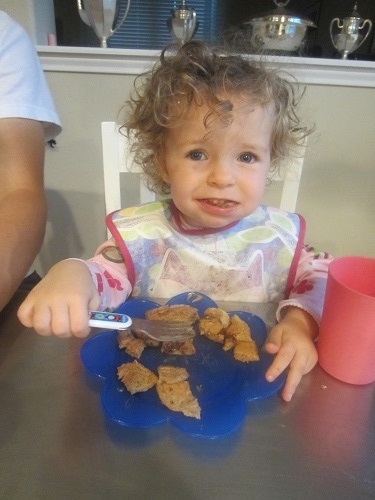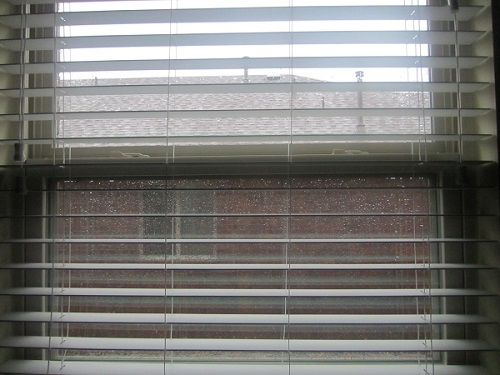 This last Sunday it was the perfect pancake breakfast morning too. It was cold outside and rainy. For some reason this made me extremely happy and very excited to have our pancakes. Then I remembered that we had wheat bran and I got even more excited because I knew that we could make these buttermilk wheat bran pancakes! I am such a fan. My husband has told me that he thinks these are the best pancakes I've made.. and I'm pretty sure I've tested out at least 10-15 different types pancake recipes.
These pancakes are such a great fluffy texture but they also are really hearty because of the bran. I love the buttermilk element to it too because I feel that anything with buttermilk is always better!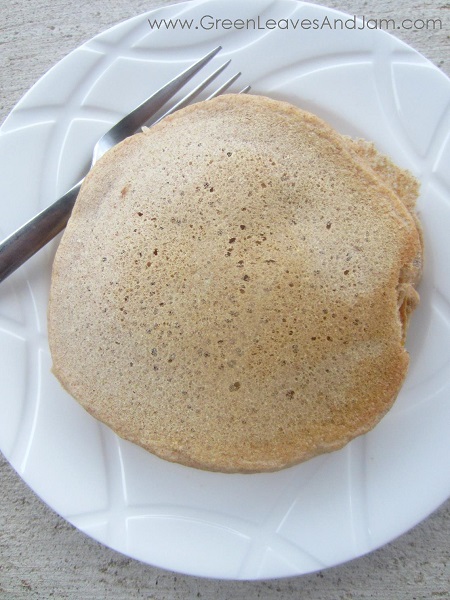 As a side note.. I promised pictures of my daughter's Halloween costume, so here they are!
In case you're still not sure what she is, she's little red riding hood.  I am SO happy with how her costume turned out! She is surprisingly happy with it too. She didn't want to take it off today after our little photo-shoot. I love Halloween! So fun! Anyway, back to pancakes…
Vegan Buttermilk Wheat Bran Pancakes
Makes 16 pancakes
Author:
greenleavesandjam.com
Ingredients
1¾ cups wheat flour
¾ cup wheat bran
1½ tbsp baking powder
1 tsp salt
2 tbsp sugar (optional)
2 tbsp flax meal
1½ cups vegan buttermilk (1½ cups unsweetened non-dairy milk + 1 tbsp and 1 tsp white vinegar)
¼ cup olive oil
1¼ cup water
1 tsp vanilla
chocolate chips (optional)
Directions
In a 2 cup measuring cup, pour 1½ cups non-dairy milk and the 1 tbsp plus 1 tsp white vinegar and mix well.
In a separate bowl, mix together the flour, bran, baking powder, salt, sugar and flax meal.
Add the "buttermilk" mixture to the dry ingredients along with the oil, water and vanilla. Stir until well combined. If you would like chocolate chips mix them in now.
Our favorite way to eat these vegan buttermilk wheat bran pancakes is either with the
healthy peanut butter syrup
, or with a layer of peanut butter slathered on top and maple syrup on top of that.
Hope you enjoy!
Kristin