Yummm! That is usually the first word that pops into my mouth when I think about chocolate and peanut butter together. I am such a fan of these two as a combo. Usually when you hear those two together it usually means pretty unhealthy too. I think Reese's, puppy chow/muddy buddies, no-bakes, you get the idea. Well the best part about these muffins is that they are about as healthy as they can get while still tasting delicious!  There isn't too much sugar, but they still taste like they have quite a bit.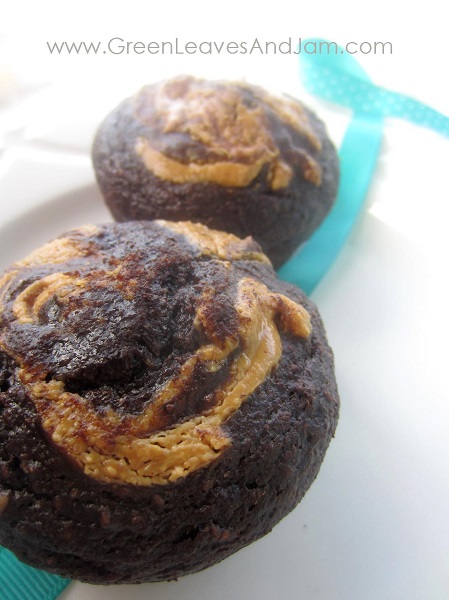 Chocolate and Peanut Butter Swirl Muffins
Makes 12 muffins. These are adapted from sallysbakingaddiction.com's Skinny Chocolate Peanut Butter Swirl Cupcakes
Author:
greenleavesandjam.com
Ingredients
¾ cup non-dairy milk of choice
1 tbsp apple cider vinegar
1 cup whole wheat flour
½ cup cocoa
1 tsp vital wheat gluten
1 tsp baking powder
1 tsp baking soda
1½ tbsp flax
4½ tbsp water
2 large very ripe bananas, mashed
2 tsp vanilla
½ cup chocolate chips
¼ cup peanut butter
Directions
Heat oven to 375 degrees. In a bowl, stir together the non-dairy milk with the apple cider vinegar and set aside for a few minutes. In a large bowl stir together the flour, cocoa, wheat gluten, baking powder, baking soda, and flax. You may want to sift in the cocoa so you don't end up with chunks of cocoa in your finished muffins. Add in the water, mashed bananas, and vanilla and stir until well combined. Add in the chocolate chips and give it another mixing. Pour batter into greased muffin tins (or you can use cupcake liners if you wish to skip the oil). heat the peanut butter in the microwave and then spoon about a tsp of it into each muffin. Using a knife or a toothpick, swirl the peanut butter around a bit. The swirling turned out best for me when I did 3 different glops into each muffin and then swirled them. Bake in the oven for about 20 minutes at 375 degrees.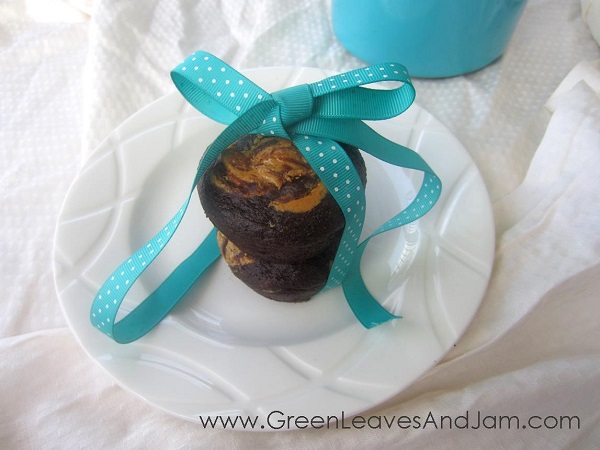 Hope you enjoy these tasty chocolate and peanut butter swirl muffins!
Kristin