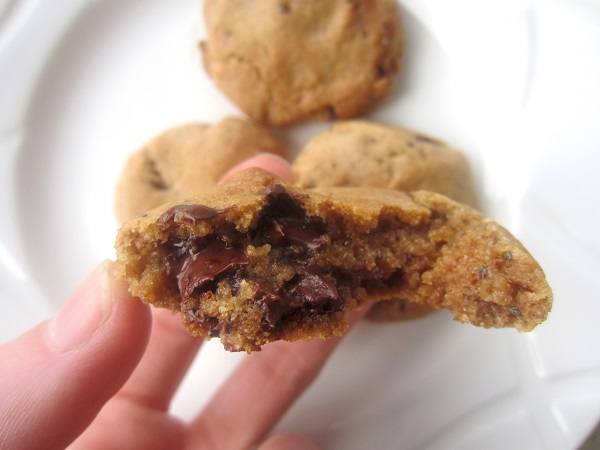 I LOVE Chocolate Chip cookies. Let me start off by saying that these cookies ARE NOT HEALTHY! They have oil and sugar galore! However, they are probably the best vegan chocolate chip cookies that I have had to date. And I have tried a lot.
You would probably only want to have these cookies on holidays (like memorial day), or like my husband and I do sometimes, we only have one of these cookies each after dinner (with the occasional cheat of having 2 each). I just place the dough in a ziploc baggy and throw it in the freezer and then cook the amount I want when I need to.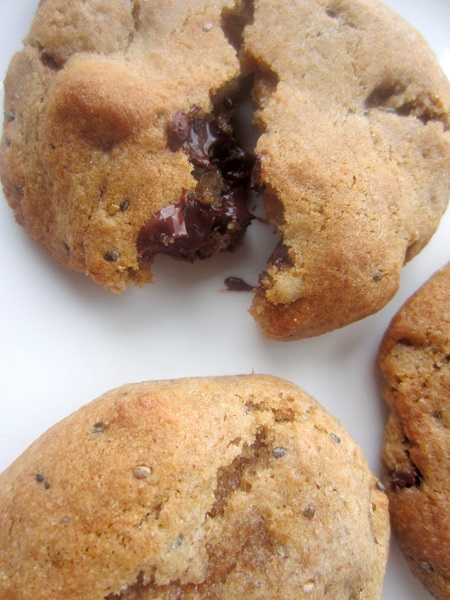 These cookies are gooey in the center, but have that wonderful crisp outside that I love about chocolate chip cookies. One of my favorite elements of these cookies are the chia seeds. I have made this recipe in the past with flax meal as the egg-replacer, but loved them even more when I used chia seeds instead. This is because the flax meal changed the flavor a bit, while the chia seeds did the same job, but didn't change the flavor much at all. Which is EXACTLY what I was looking for.

Chocolate Chip Cookies, The Best Vegan Ones Out There!
This makes approximately 30 cookies.
Author:
greenleavesandjam.com
Ingredients
1 stick plus 2 tbsp vegan butter, or coconut oil* (10 tablespoons total)
½ cup white sugar
½ cup brown sugar
1 tablespoon chia seeds
3 tbsp water
1 tsp vanilla
1¾ cup wheat flour
½ tsp salt
½ tsp baking soda
chocolate chips (the more, the better...)
Directions
Heat your oven to 375 degrees. Mix the butter and the two sugars together. Add in the chia seeds, water and vanilla and mix again. In a separate bowl (sometimes I don't do this and they turn out fine), mix together flour, salt and baking soda. Add in the wet ingredients mixture and stir until combined. Mix in chocolate chips. Bake the cookies for 6 minutes at 375 degrees.
**I have subbed coconut oil in this recipe, and although it works, you will be sacrificing that flavor that only butter can give. Your choice.
I hope you enjoy these oh-so-tasty vegan chocolate chip cookies!
Kristin