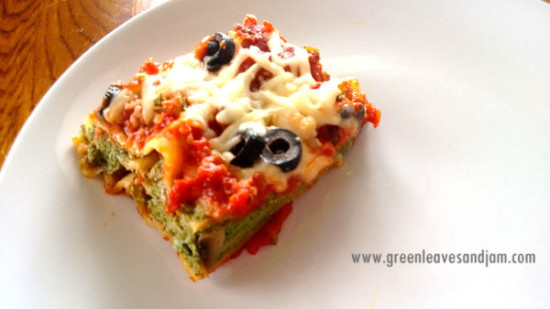 We've had lots of company lately and this is my all-time favorite lasagna to feed to a crowd.  And it doesn't matter if it is a plant-loving or meat-loving crowd, everyone loves this lasagna with spinach and zucchini.  My teenage son even says it is his favorite lasagna ever and he isn't converted to vegan eating.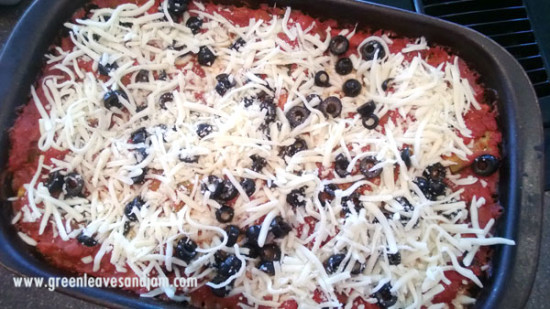 I don't precook my lasagna noodles and I use jarred pasta sauce to keep this easy to make.
The tofu-spinach 'cheese' layer is best blended in a food processor.  I've used a blender before but I found that I prefer to use the food processor since the mixture can be difficult to blend well and scrape out of a blender.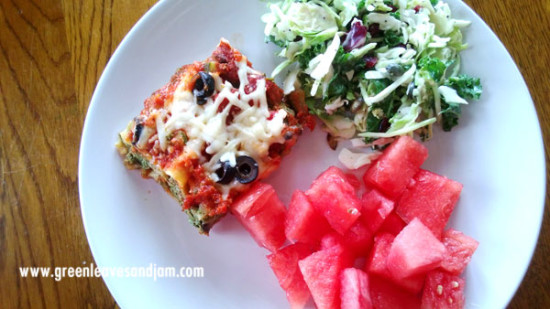 Here I served it with a salad and watermelon.  I don't know if I would normally think to serve watermelon with lasagna, but it's summer and I had watermelon calling my name, so that's what we had!

Crowd-pleasing Vegan Lasagna
Adapted from 'my favorite lasagna' at fatfreevegan.com
Author:
greenleavesandjam.com
Ingredients
56 oz spaghetti/pasta sauce
2 tsp garlic, chopped
½ lb fresh, sliced mushrooms
2 zucchini, chopped
vegetable broth for sautéing
10 oz frozen chopped spinach
1 lb firm tofu
1 tsp salt
2 tbsp. nutritional yeast
1 tbsp oregano
1 tsp garlic powder
1 tsp basil
½ tsp crushed rosemary
⅛ tsp cayenne pepper
1 pkg lasagna noodles
1 can sliced black olives
½ lb of shredded vegetable 'mozzarella'
Directions
Preheat oven to 375 degrees.
Saute garlic in 2 tablespoons of vegetable broth over medium heat. Add sliced mushrooms and chopped zucchini and cook until tender. Add the spaghetti sauce, remove from heat and set aside.
Process tofu, thawed and drained spinach in food processor until smooth. Add salt, nutritional yeast, oregano, garlic powder, basil, rosemary, and cayenne pepper and process until well mixed.
Spread half of the vegetable/pasta sauce mixture in the bottom of a large casserole pan. Layer lasagna noodles on top. Spread half of the tofu mixture on top of noodles. Add another layer of lasagna noodles. Spread the rest of the tofu mixture on top of noodles. Add a final layer of noodles and top with remain sauce.
Cover with foil and bake for 30 minutes. Remove foil and bake for an additional 30 minutes. In the last 10 minutes of baking add the sliced black olives and shredded 'mozzarella'.
I've tried lots of different vegan lasagnas and this is by far my favorite!
Enjoy!  Julie