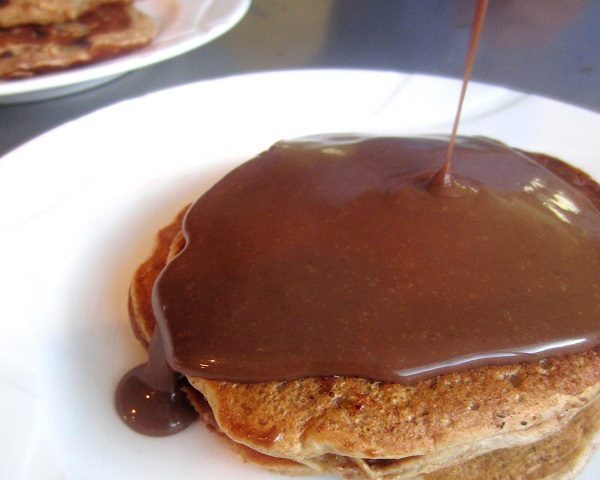 The morning that we celebrated my daughter's birthday I made pancakes and our usual peanut butter syrup to go with them. While making them I had an epiphany. Add cocoa! It doesn't decrease the healthiness of the sauce, it just adds an extra element of YUM! I bet you can guess what my daughter (and husband's) reactions were? They were scarfing them. Go figure.
The original recipe that I have for the Healthy Peanut Butter Syrup only calls for 1-3 tablespoons of agave but in this I put 2-4 depending on if my peanut butter had sugar in it or not. I'm sure you won't mind taste-testing this sauce to see if it needs more agave.:)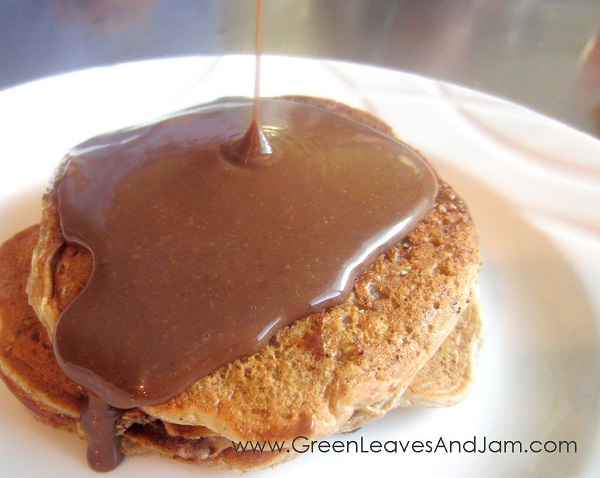 Healthy Chocolate Peanut Butter Syrup/Sauce
Author:
greenleavesandjam.com
Ingredients
1½ cup non-dairy milk (I used unsweetened soy milk), split up
¼ cup cocoa
½ cup peanut butter
2-4 tbsp agave, maple syrup or honey
1 tsp vanilla
Directions
In a small bowl, whisk together ½ cup milk with the cocoa. stir this well until it is smooth.
Place the remaining 1 cup of soy milk in a sauce pan and add in your milk/cocoa mixture. Add the peanut butter and agave as well.
Heat over medium-high heat, stiring often, until the edges begin to boil. Remove from heat and add the vanilla. Let the sauce cool to a comfortable eating temperature.
*If you would like the sauce to be a little thicker, simply boil a little longer until it reaches your desired consistency. Remember that the sauce will thicken some as it cools.
I used this chocolate peanut butter sauce for topping our pancakes, but it would also be excellent on top of ice cream, as a dip for fruit, and anything else your heart desires. If you come up with any brilliant ways you like to use this sauce, please share your idea with us!
Thanks,
Kristin