My daughter had this for lunch the other day and we both gobbled it down. I love avocados, and so this combo of avocados with the already seasoned hummus on toast was so tasty!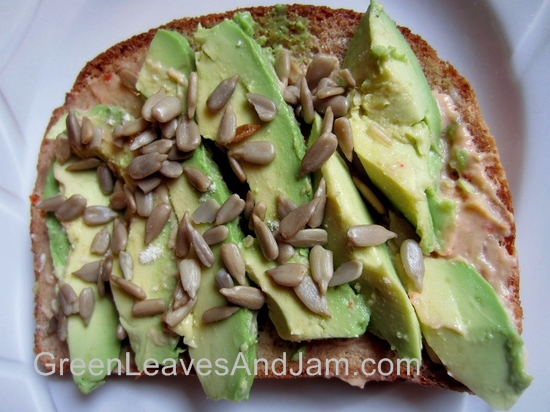 Easy Avocado and Hummus Topped Toast
Author:
GreenLeavesAndJam.com
Ingredients
1 slice of whole wheat bread
roasted red pepper hummus*
½ avocado
small handful of sunflower seeds
seasonings to taste
Directions
Toast your slice of bread, and while it's toasting, cut your avocado into slivers. Spread your hummus on top then add the avocado slivers and a small handful of sunflower seeds. If you would like to add some seasonings, this is the time to do it! I sprinkled a little onion powder on top of mine.
*You can use whatever hummus flavor you would like for this. We love the roasted red pepper hummus though. Be sure to check the label and try to get either an oil-free version, or at least a hummus that is low in oil.