Like I've mentioned before in my  salad on the go post, my HH(Healthy Husband) and I eat a salad a day. This means that I have to get creative. I have tried a TON of combinations and somehow they never go wrong! I usually have one bean of some sort, a nut or seed (sometimes both), a fruit and sometimes extra veggies on top. I've also experimented with dressings and haven't had a bad combo yet. *knock on wood!*
We made this salad and topped it with a poppy seed dressing that I bought from the store. You could also top it with an Italian dressing, a vinaigrette..etc.
Salad Combo Idea: Almonds, Apples, Beans, and Corn Salad
Almond, Apple, Beans and Corn Salad
Author:
GreenLeavesAndJam.com
Ingredients
romaine lettuce
slivered almonds
corn
black beans
diced apples
your choice of dressing
Directions
Chop your lettuce and load it into your bowl. Pile all the toppings up on top of your lettuce and drizzle your dressing.
Hint for the dressing: try to only put a little bit on, you can always add more if you need more, but you can't take away dressing that's already been added!
I also want to include the version of our dinner that I made for my 1 1/2 year old daughter.
My daughter's version of our dinner: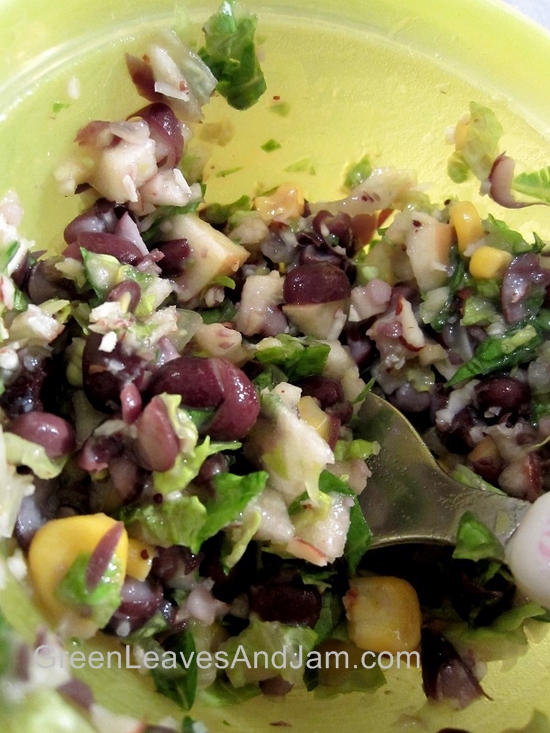 Directions: I washed the lettuce a couple extra times then chopped the lettuce, beans, apples and almonds to fine pieces. I then added the corn, dressing and also a little flaxmeal for good measure. She loved this one!
If you have any questions about this Almond, Apple, Bean & Corn Salad just ask!  We're here to help!
Enjoy!  Kristin