Well, we have been super busy over here! Our home is in complete disarray at the moment while we are waiting for our "wood" floors (laminate flooring) to go in. They were supposed to install it yesterday but when they arrived they informed me that we couldn't install an island on top of the floating floor (it would cause buckling in the flooring). Therefore we postponed the flooring until Saturday. In the meantime our playroom/movie room/ our hang-out room while they work looks like this: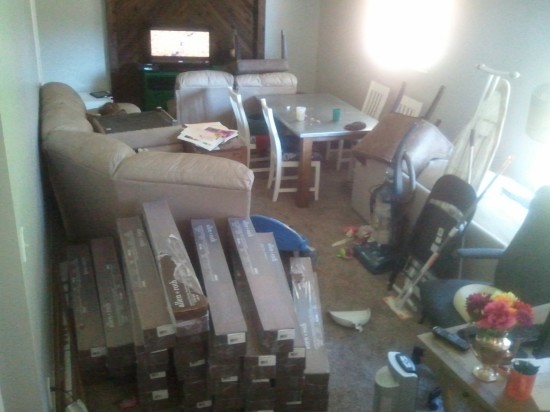 YIKES! The upper floor is currently stripped down to sub floor and has been for a few days now. We are also appliance-less all except for our refrigerator currently. They installed our microwave today though so at least we have that now too. We also got our beautiful quarts countertops this morning and our house is finally coming together.
I am finally starting to see the light at the end of the tunnel and feeling more and more like it has all been worth it!
Well, on to the fun, BIG news!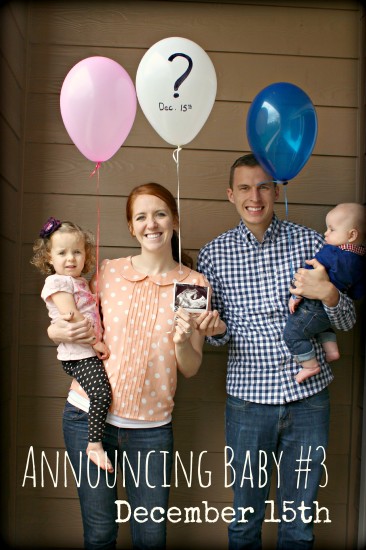 I am pregnant and we are expecting baby number 3 in December! We are super excited and can't wait for the new addition. I will find out the gender in about 5-6 weeks! We are such planners that I can not wait to find out.
You may have also noticed the addition to the blog. My cousin, Danielle, has decided to join the blog and I couldn't be more excited! She has had a blog for quite some time and I have always loved reading the fun and witty things she has to say on her blog, so I can't wait to see what she has to add to the website! She is currently working on her "about me" section and we will shortly have that up as well so you can get to know her. She is one neat girl, OH! And might I add that she is also pregnant and ironically due on THE EXACT SAME DAY! Isn't that insane?!?! Here is one of their cute announcement photos:
Keep checking back to see her upcoming posts!