This is a great meal to spice up an ordinary salad. The sauce is creamy and the meal makes great leftovers for tomorrow's lunch!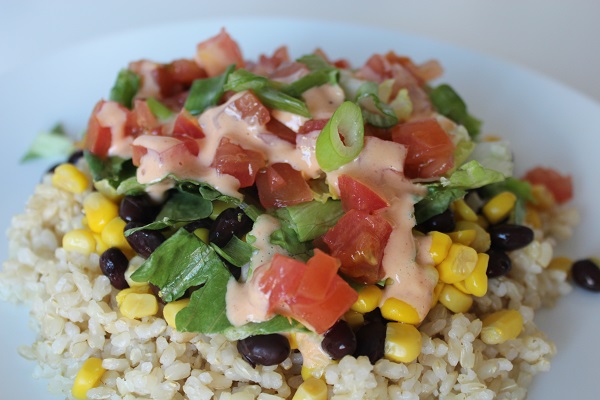 Vegan Burrito Bowl with Creamy Chipotle Sauce
Author:
GreenLeavesAndJam.com
Ingredients
2 cups brown rice
1 can yellow corn
1 can black beans
chopped romaine lettuce
1 cup chopped tomatoes
¼ cup chopped green onions
1½ cup soy or coconut yogurt
¼ cup olive oil
1 clove of garlic
1 tablespoon of lime juice
⅛ teaspoon cumin
1 chipotle in adobo sauce
Directions
Cook brown rice according to instructions.
Mix corn and black beans in with cooked rice.
Continue by layering chopped lettuce, tomatoes and green onions on top of rice mixture.
To make the sauce, blend all ingredients in high powered blender until smooth. Adjust the spice of the sauce to your liking by adding more chipotle peppers (but be careful, they're hot).
I've learned a couple of things since I have started eating vegan:
1. Plan your week's meals ahead of time.
2. Do as much prep work at the beginning of the week as possible.
Sometimes, I'll cook two cups of brown rice at the beginning of the week, mix some corn and black beans in it and make it work for a couple of dinners. The more things I have on hand ready to go, the easier it makes my life! If we are having burrito bowls during the week, it means we're probably also using the leftover brown rice/bean/corn mixture for some vegan quesidillas later on (yum)!