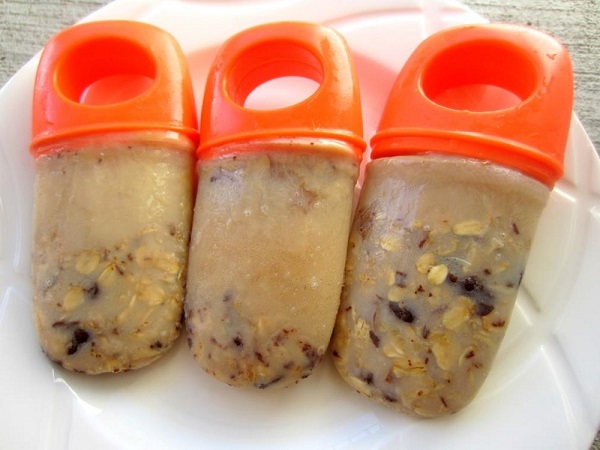 It is finally starting to get warm enough here in Texas for popsicles and we are excited! Of course I say that and then watch, there will be a cold front tomorrow.
I love a good popsicle on a hot summer day. My daughter especially likes them too. In fact, today we went to Ikea and my daughter saw some popsicle molds and began reaching/whimpering for them. I think she's caught onto what a popsicle is, don't you?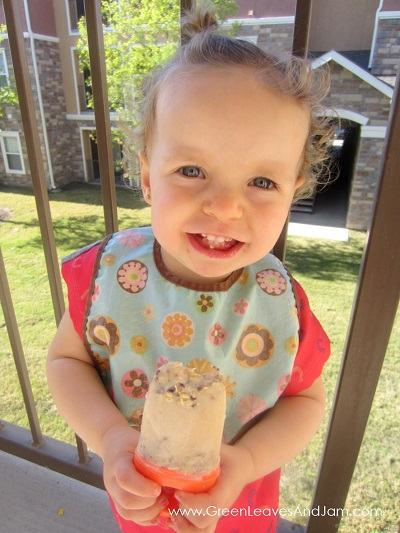 These popsicles were tasty and also had some meat to them, thanks to the oats. I worried at first that they would maybe be too soggy, but I actually rather enjoy the oats and then the walnuts and chocolate chips added in some much needed crunch.

Chocolate Chip Oatmeal Cookie Popsicles
Makes 6 popsicles
Author:
greenleavesandjam.com
Ingredients
1 cup non-dairy milk (soy, almond, rice)
⅓ cup oats
2 tbsp agave
½ tsp vanilla
3 tbsp mini semi-sweet chocolate chips, or chopped regular-size chocolate chips
2 tbsp chopped walnuts
Directions
If you are using regular sized chocolate chips, chop them, along with your walnuts.
Place all ingredients into a bowl and mix.
Pour into your popsicle molds and freeze until frozen through (I leave mine in the freezer overnight).
I hope you enjoy these Loaded Oatmeal Chocolate Chip Cookie Popsicles
Kristin
What is your all-time favorite cookie?