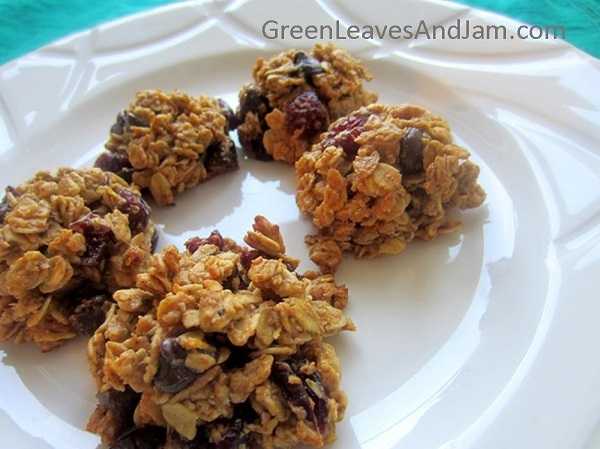 Can you believe that it's almost April? I feel like it was just Christmas! I'm extremely excited for April especially though because we will move into our new house (first house!) on April 1st! Just a few short days away! Something I can't wait for: having my kitchen far away from my daughter's room so I don't have to go in my bedroom during nap time to use my food processor..ha! Yes, my daughter is a bit of a light sleeper unfortunately.
On to talking about cookies.. these cranberry and chocolate chip granola cookies are wonderful. They have just enough of a tart flavor to add some interest, but it's not overpowering. The chocolate chips are the perfect combo with the tart cranberries and really help to balance that tart flavor with just the right taste of sweet and chocolate. I also really love the texture of these cookie. They have such an awesome crunch as you bite into them, but the center is a little soft as well so it's not an over-whelming crunch.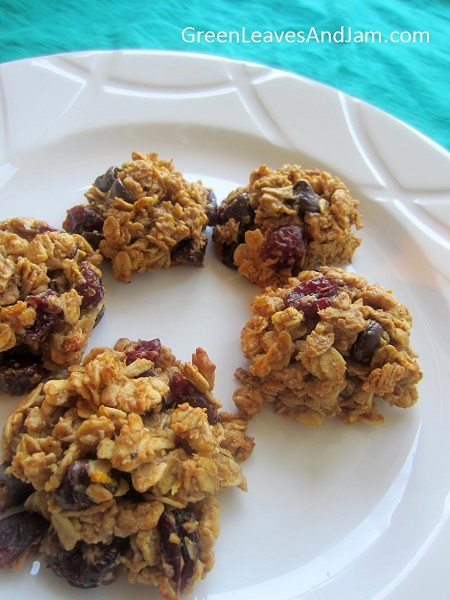 Another thing I really love about this recipe is that it's super easy and quick to make. You just throw all the ingredients into a bowl, mix it up and cook! No weird extra steps or dirtying 10 different bowls. These also do really well if you leave the batter in your fridge over-night and cook up more of the cookies the next day.

Cranberry and Chocolate Chip Granola Cookies
Inspired by Dreena Burton's Breakfast cookies. This makes approximately 14 cookies
Author:
greenleavesandjam.com
Ingredients
5 tbsp agave*
2 tbsp flax
2 tbsp peanut butter
1 tsp vanilla
1½ tsp vegan butter or coconut oil, melted
¾ tsp zest from one large lemon
1¼ cup oats
½ tsp cinnamon
⅛ tsp nutmeg
1 tsp xantham gum
¼ tsp salt
1 tsp baking powder
1 tbsp non-dairy milk
3 tbsp dried cranberries (craisins)
2½ tbsp chocolate chips, semi-sweet or dark
Directions
Preheat the oven to 350.
In a bowl, mix all the ingredients together. Using a tablespoon, scoop your cookie out onto a greased pan. Mush the cookies in your hands to make them really stick together.
Cook in the oven for 10-12 minutes.
**These cookies aren't overly sweet, and I rather like the light-sweet flavor that it has, but if you would like them sweeter feel free to add another tablespoon or two of agave to the recipe.
Enjoy these super tasty cranberry and chocolate chip granola cookies!
Kristin