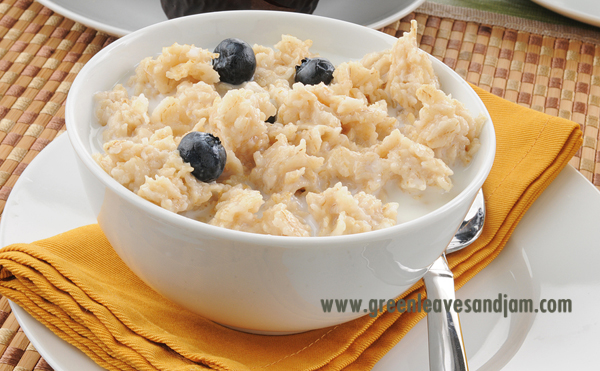 I love oatmeal for breakfast!  I think it's the perfect plant-based breakfast.  It's relatively quick and easy, but a little variety is helpful so I rarely make it the same way twice.  Last week's variation with blueberries and chia seeds is below.
My husband Ron LOVES a smoothie for breakfast in the morning.  And I'm telling you, he puts everything but the kitchen sink into his smoothie – kale, bok choy or spinach, carrots, banana, berries, oatmeal, flaxseed, nutritional yeast, chia seeds, nuts, etc., etc, etc.  But last week we didn't have the makings for a smoothie, but I'll get to that in a minute.
We had been out of town and so our refrigerator and cupboards were pretty empty since we took all our fresh produce with us and cleaned out the refrigerator of anything that would spoil while we were gone.  Sometimes I just like to work in a kitchen that is almost empty.  Do you do that?  It forces me to use the things in the cabinet and frig/freezer that I might otherwise continue to overlook.  It makes it easy to clean the frig too.  For example, the first night we were home we had refrigerator chili with a can of kidney beans added to it, frozen green beans and couscous, all from what was available at the house without going to the store.
Ron was leaving for Chicago the next morning for a couple of days on business.  There were no more greens left in the house for his smoothie; we had even used the last of the frozen kale.  So I whipped up some oatmeal in a jiffy.  So easy and so good.  Luckily we keep a lot of oatmeal on hand.  I have a food storage of wheat, beans, rice, and oatmeal, so I always have a few staples available.
On a side note, we store white rice because unfortunately brown or wild rice are too moist for long term storage, so we don't use our rice because I always put brown rice in the cooker.  We started storing rice before we understood the importance of eating whole grains.  So I'm realizing I need to give the white rice to someone before it goes bad, if it isn't too late already.
Here's Oatmeal for Two with chia seeds.
Oatmeal for Two
Author:
greenleavesandjam.com
Ingredients
1 cup rolled oats
1-3/4 cup water
2 tbsp chia seeds
1 cup blueberries, frozen or fresh
non-dairy milk
agave to taste
Directions
Bring to water to a boil on the stove top.
Add the oats and return to boil, then add seeds.
Boil for a 2-3 minutes, reducing temperature and stirring as needed.
Add ½ cup of blueberries to 2 bowls and pour cooked grains over blueberries.
Stir and add non-dairy milk and agave to taste.
Chia seeds are naturally crunchy and can be eaten raw or cooked.  If you like crunch, add them after you've cooked your Oatmeal for Two, if not, add them while you're cooking and it hardly changes the taste of the oatmeal but it does add some great nutrients including Omega 3's.
What's your favorite breakfast food?
Enjoy! Julie