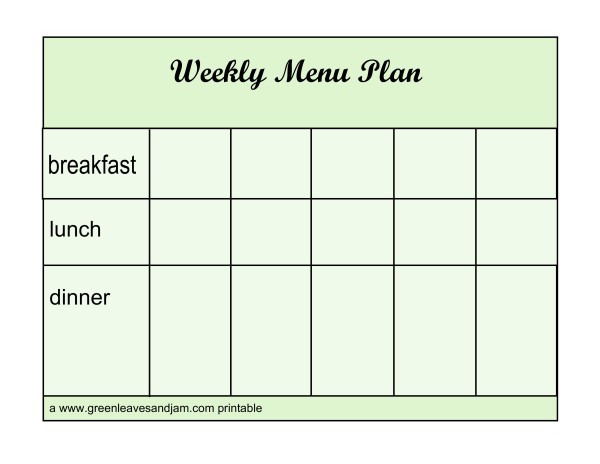 I was recently reading Doug Lisle's excellent book The Pleasure Trap: Mastering the Hidden Force that Undermines Health & Happiness,
 and he strongly suggests menu planning.  Because if you think about it we eat 21 meals a week x 52 weeks in a year, that's 1092!  That's a lot of meals and without a plan that's a lot of stress, especially if you are wanting to improve your health.   So I've created a printable weekly menu plan (PDF) that you can download and print as often as you would like.
Sometimes it seems we spend more time planning the fuel that goes into our car than we do the fuel that goes into our body.  We have apps on our phone that tell us where we can get fuel for the least cost.  We plan our route to and from school or work according to where the best stations are.  We're also careful not to put 'cheap' fuel in the car because that can be far more costly in auto repairs than decent gasoline.
I'm a reluctant cook, but anything that we do 1092 times a year that is as important as fueling our body probably ought to be planned.  That's why I've created a printable weekly menu plan (PDF) for you.
Here's some menu planning tips:
1.  Write out a weekly menu.  I usually only plan 2-3 lunches a week and 2-3 breakfasts a week as we repeat these meals a lot.  I plan up to 5 dinners a week since at least 2 nights a week are left overs or eating out.
2.  Make out a shopping list to go with your weekly menu.  My shopping list is divided unto categories for fruits, vegetables, grains, canned, frozen, condiments, spices, etc.  (Next week I'll share a printable shopping list.)
3.  Keep copies of your weekly meal plan and shopping list and repeat it.
4.  Create 2 to 3 weeks of meal plans and repeat them every 2-3 weeks.  I usually like to try at least one new recipe a week.  If you like to do that too take that into consideration as you are making your plans.
Enjoy this weekly menu plan and let us know how you are doing on creating a meal plan.
Julie