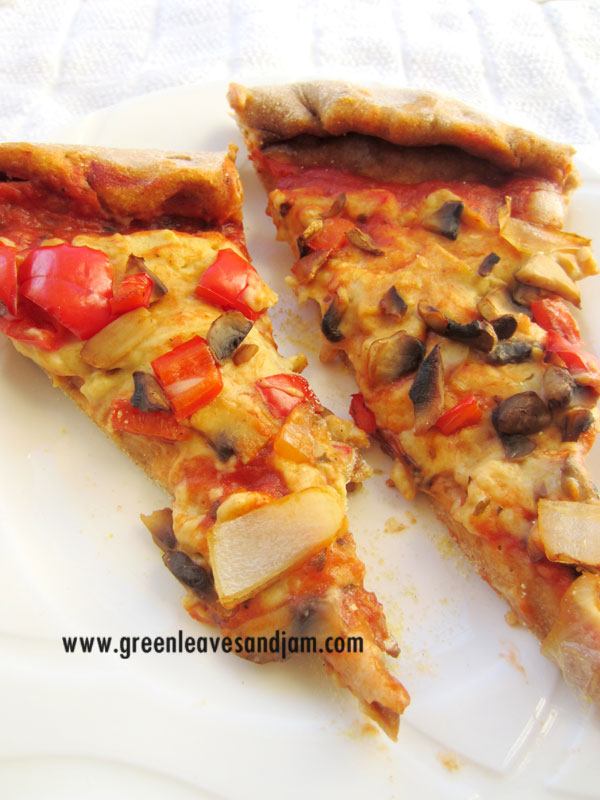 I have made a lot of different variations on the "vegan pizza." When I made this one, both my husband and I looked at each other and said "This is it!" We had finally found one that we were happy with. I mean we had 3rds for heaven's sakes!
My husband and I are HUGE pizza lovers! There is something so amazing and magical about the combo of a carb, a "cheese" and marinara sauce. This one really hit the spot for us and I hope it does for you too!

Our Favorite Vegan Pizza
**This recipe makes 2 pizzas**
Author:
greenleavesandjam.com
Ingredients
Pizza Dough
2 cups of lukewarm water
1 tbsp yeast
¼ cup agave
2½ cup wheat flour
1½ tbsp wheat gluten
¼ cup olive oil
1 tbsp salt
2-3½ cup wheat flour
"Cheese" Sauce:
3 cups non-dairy milk
½ cup nutritional yeast
3 tbsp sesame seeds
½ cup wheat flour
4 tbsp cornstarch
2 tsp lemon juice
1 tsp apple cider vinegar
2 tsp onion powder
½ tsp garlic powder
1½ tsp salt
Directions
Pizza Dough:
Pre-heat oven to 350 degrees.
In a small bowl mix water, yeast, and agave then set aside and let sit for about 5 minutes.
In a separate bowl mix 2½ cup flour, olive oil, salt and then also add your yeast/agave/water mixture. Mix until well combined
Stir in remaining flour until the dough is firm, but still a little sticky. Cover and let sit while you prepare the rest of your pizza
'Cheese' Sauce:
Place all your ingredients into a blender and blend until smooth.
Place in a saucepan and heat on medium heat until thickened. Stir constantly so it doesn't burn to the bottom. It will be like a custard when its done. (adapted from
http://cleangreensimple.com/2011/03/vegan-gluten-free-pizza/)
To Assemble and Cook:
Roll out your pizza dough using flour to dust table and rolling pin.
Dust your cookie sheet with cornmeal and spread your dough out onto that pan.
Spread your favorite marinara sauce all over the pizza.
Place spoonfuls of the "cheese" sauce all over the pizza then spread around.
Add your favorite toppings: Our favorites are sauteed onions, mushrooms, bell peppers.
Place in oven and cook at 350 degrees for 20-25 minutes or until fully cooked through and your crust is lightly browned.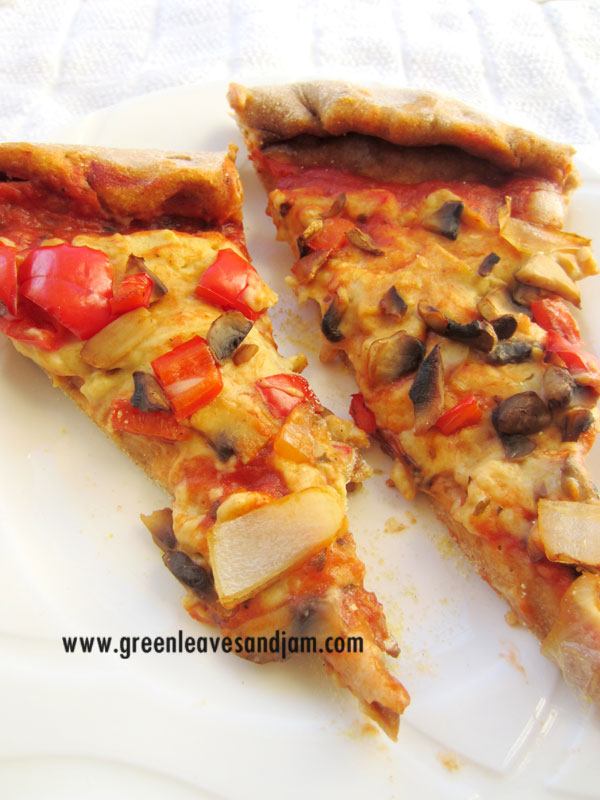 What are your favorite pizza toppings?
Like I stated before, this is our favorite vegan pizza! We love it and I hope you do to!
Kristin