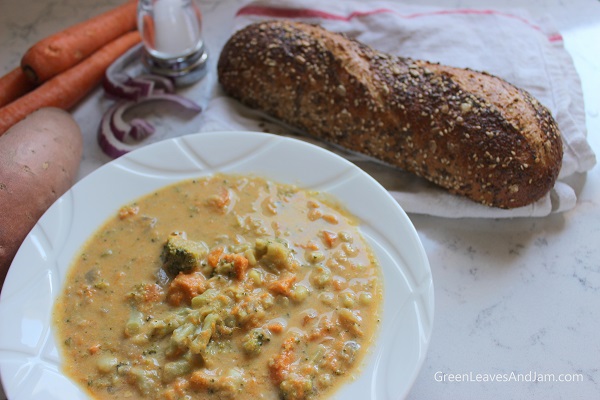 On Saturday we had a lot of yard work to do. While the younger kids napped I set Sydney up with a movie to watch while I went outside to help. When I came back in to  get the little guys up from naps and make lunch I asked Sydney to sit in a chair and eat her peas. She complained that she couldn't hear and this was her solution. She grabbed her mini chair and sat a whole foot closer and claimed that she could hear better. She get's points for cleverness though!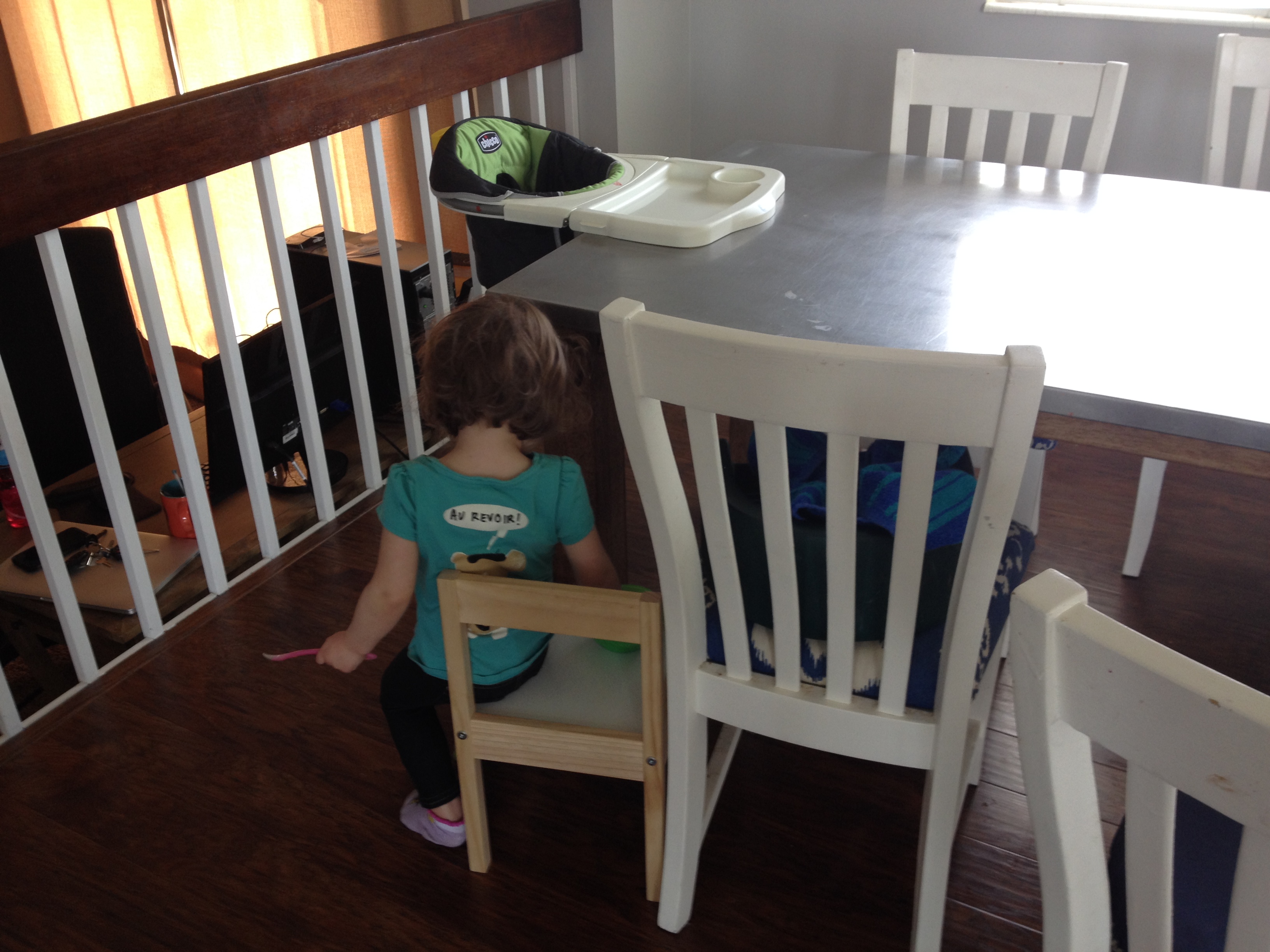 I loved watching Rome eat his peas. As you can see in this picture, he ate one pea at a time. I wish I had that much self control when it comes to food! A lesson I clearly need to learn from my 1 year old…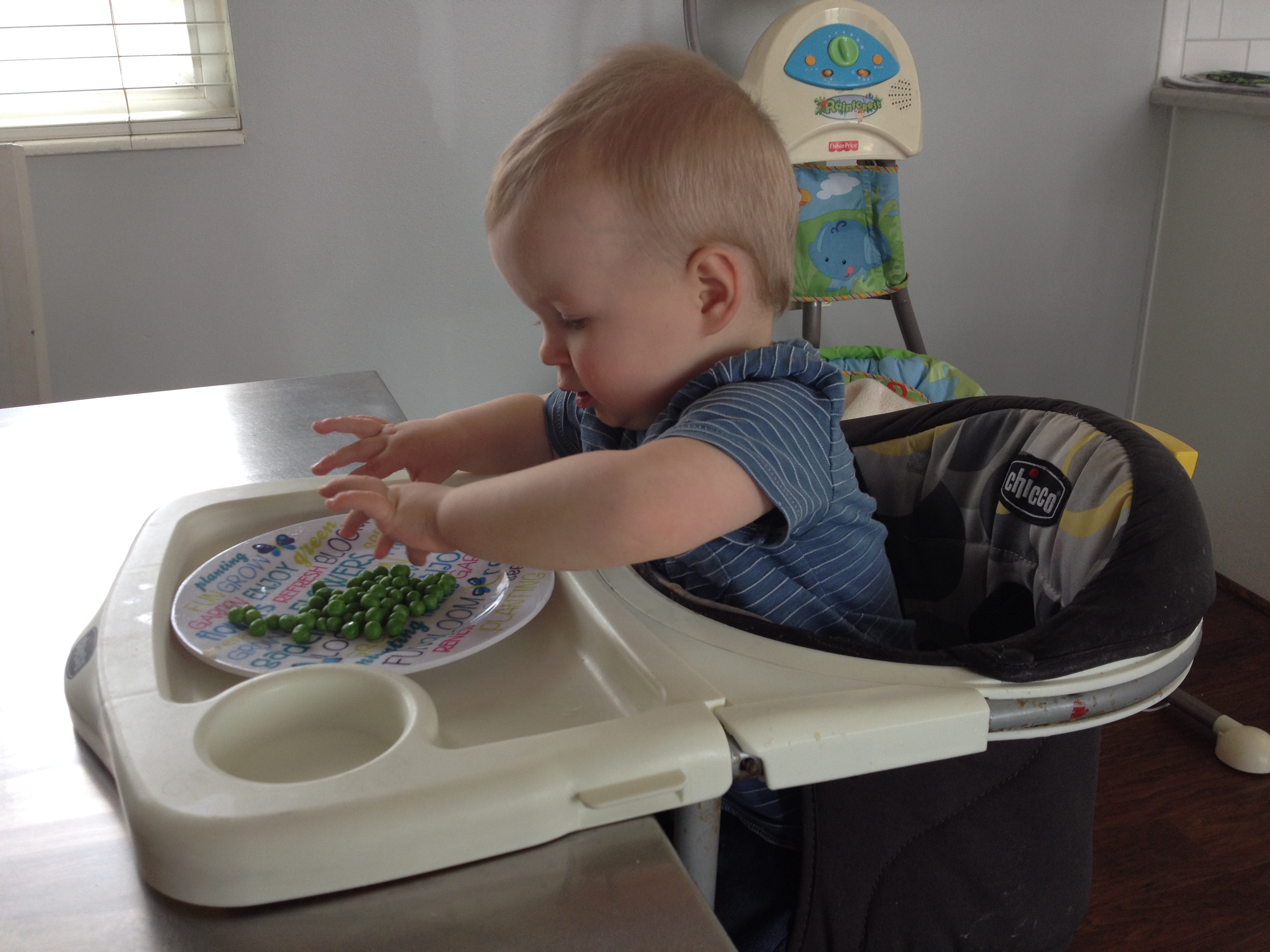 Tonight for dinner I had one of my favorite meals ever. Sweet potato soup. My friend brought over a similar soup for us one day when we were all sick and it got me thinking. I had never had sweet potatoes in my soup before and to be honest I was skeptical that I would like it, but it was fabulous. So naturally I had to make my own little plant-based version!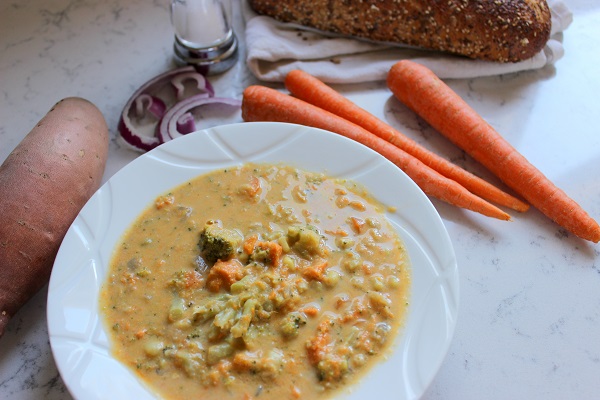 We just got hit with a random blizzard that has made me in the mood for warm soup. Although, call me weird, but we eat soup even in the summer. I am a year-round soup eater. Especially when the soup is really tasty like this one is. It's creamy with a sweet and savory taste. I'm a fan.:)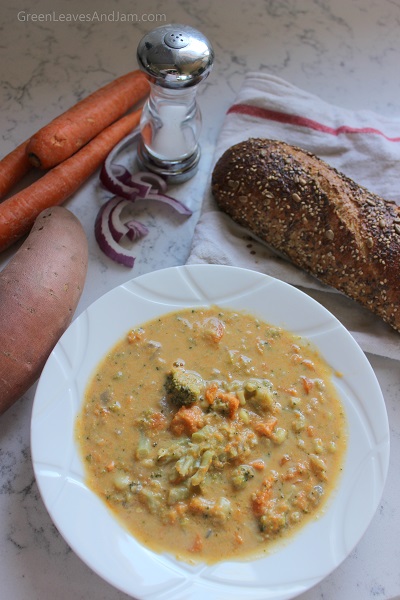 Creamy Sweet Potato and Broccoli Soup
Author:
GreenLeavesAndJam.com
Ingredients
1 tbsp olive oil
1 red onion, chopped
2 cups chopped carrots (about 3 medium carrots)
3 cloves garlic, minced
8 cups water
6 cups chopped sweet potato (2 large sweet potatoes)
1 lb frozen broccoli
1½ cups frozen sweet corn
1 cup cashews + 1 cup water
sea salt to taste
Directions
In a large pot, saute your red onion in the olive oil on medium heat while you chop your carrots.
Add the carrots into the pot and continue to cook while you add in your minced garlic. Saute the veggies for another 2 minutes.
Add in the 8 cups of water and turn up the heat to high.
While you wait for it to boil, chop your sweet potatoes and add them to the pot. Add in the broccoli and corn as well.
In a blender, blend your cashews and 1 cup of water until smooth. Add to the soup and wait until it boils.
Once it begins to boil, reduce the heat to a simmer and let it simmer for 30 minutes or until the veggies are soft.
Blend just a bit with a hand blender to eliminate any large pieces of veggies and blend the flavors in just a bit.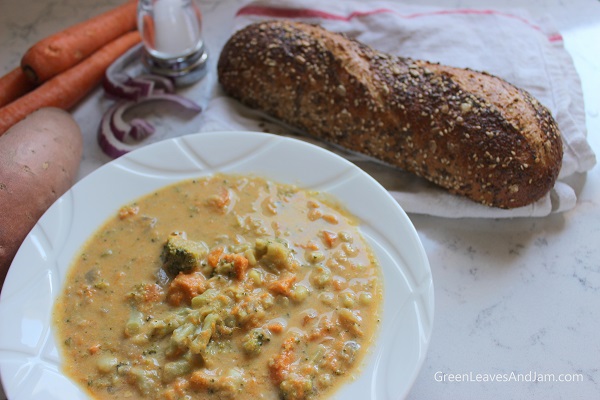 Give this soup a try and come back and let me know what you think!
Kristin