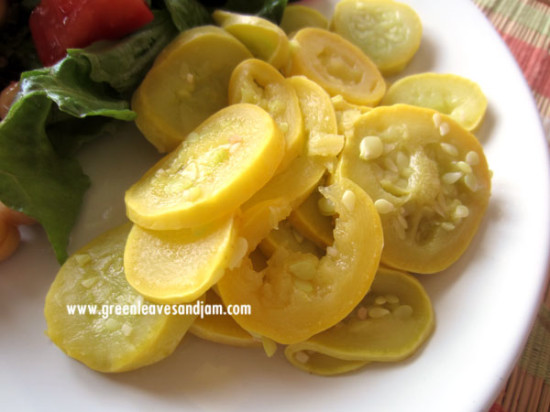 The 4th of July has come and gone. I think we really should call it Independence Day as that more accurately describes why we celebrate the 4th. Sadly sometimes I fear we don't spend enough time recognizing the true meaning of important holidays. In church yesterday we stood and sang the Star-spangled Banner and I had the fun of playing the organ for the congregation.  Frankly, I'm not really an organist.  I'm a pianist that has learned how to 'fake' the organ.  I don't know if it will ever be really comfortable, but on a couple of occasions over the past few years, I've had the opportunity to play the organ for the Star-spangled Banner which is really fun.  I love the national anthem.
We had the whole family here, all four grown kids, one son-in-law (one couldn't be here), three grandchildren and even my mother, for our 4th of July celebration.  It was the first time we've all been together in almost three years.  The last time we were all together, we only had one grandbaby so it was fun to have all the grandkids here.  By the end of the year we will have five grandchildren!  We were only together for a couple of days, then everyone had to start heading back home to Tennessee, Texas and Idaho.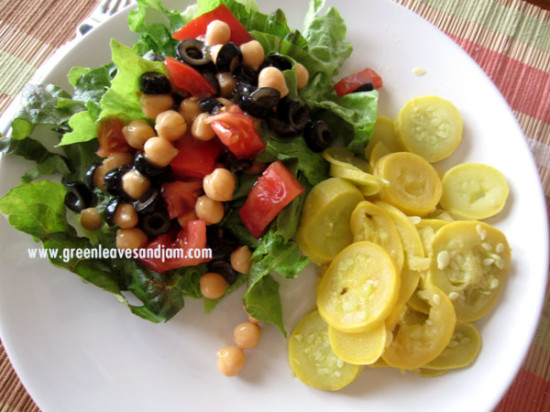 Did you notice the sautéed yellow summer squash in this Fiesta Summer Salad meal?  Or the squash and mushrooms I added to my Veggie Spaghetti?  Healthy sautéed vegetables are easy, yummy, and of course, good for you.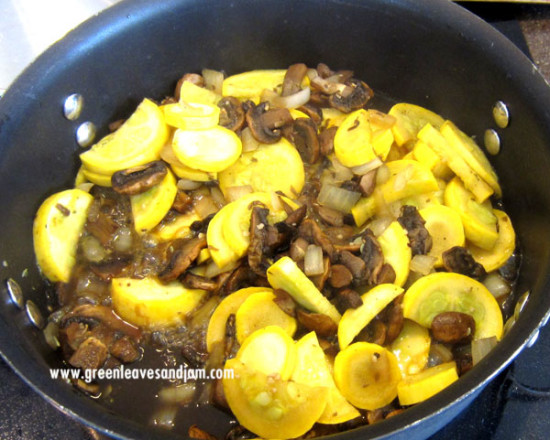 When you hear sautéed you may think of the common definition of sauté which is to cook lightly in a pan with a little butter or oil.  But it is just as quick and easy to sauté vegetables without the fats.
Simply substitute water or vegetable broth for the butter.  I prefer to use vegetable broth.  I think it's more flavorful.  Some vegetables, like the summer squash, release liquid as they cook, but many others do not, like the mushrooms.  When you sauté with oil you may find that you only use a tablespoon or a little more, but when sautéing with water or vegetable broth, you'll want to keep extra on hand to add as you cook as the broth tends to simmer away.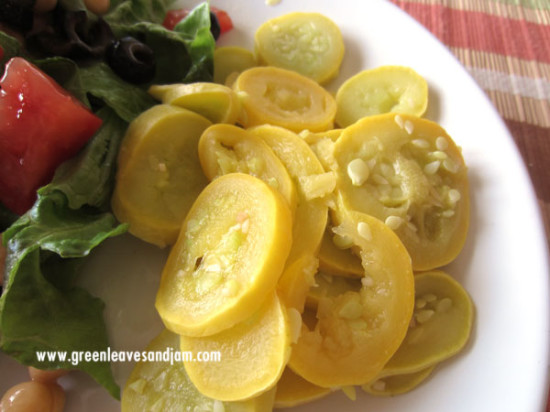 Because the broth and water simmer away and dry out the pan quickly, I like to cook my vegetables on low to medium heat and use a lid to cover the pan in between stirring.  The lid keeps the heat in for quicker cooking and prevents the liquids from evaporating quite so quickly.
I love yellow summer squash!  I cook it often.  When one of my sons was young he would ask everyday what we were having for dinner and he would cheer "Yay, no squash" on the days that I wasn't serving squash.  Happily, as an adult, he's a little more agreeable to his vegetables today.

Healthy Sauteed Summer Squash
Author:
greenleavesandjam.com
Ingredients
5 summer squash
1 large onion
vegetable broth
salt and pepper to taste
Directions
Chop the squash and onion.
Add chopped vegetables and ½ of broth to a non-stick pan.
Cook over medium heat stirring often. Cover with a lid in between stirring to prevent lose of liquid.
Heat until cooked through adding broth as needed.
What vegetables do you have ready to be sautéed?  Enjoy eating no-oil, good-for-you sautéed vegetables today.
Julie