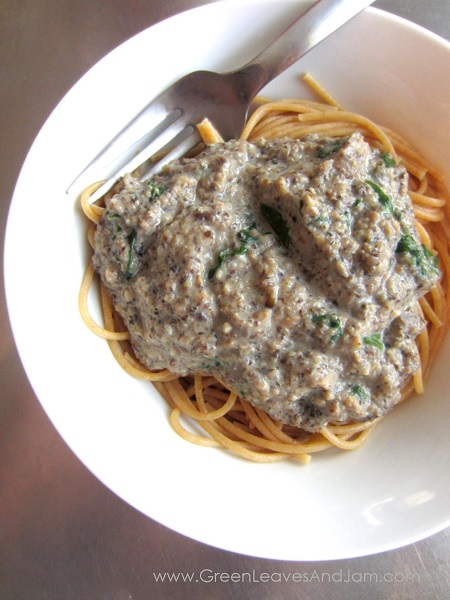 These pictures really don't do this pasta sauce justice. I ate some for lunch one day last week and then my sister-in-law (she's living with us until December-ish) came home and had some for lunch about an hour later… and just smelling it made me crave more, even though I wasn't hungry.  It's super tasty and is a pretty quick meal to make.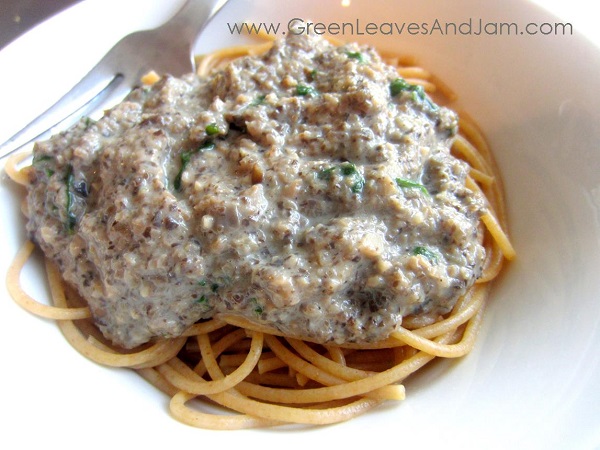 This last weekend I was out of town and therefore my husband was sent out on grocery shopping duty. For my meal plans I had put mushrooms on the list for the lasagna that I am actually making for tonight (I'll share that recipe probably next week, so check back to get that one). I unfortunately am spatially /weight challenged and had accidentally told him an absurd amount of ounces of mushrooms for him to get. I then decided that I needed to figure something out to make with all these mushrooms and that was when this came to mind. Man am I glad I thought about that. It's definitely going to be made again in our home!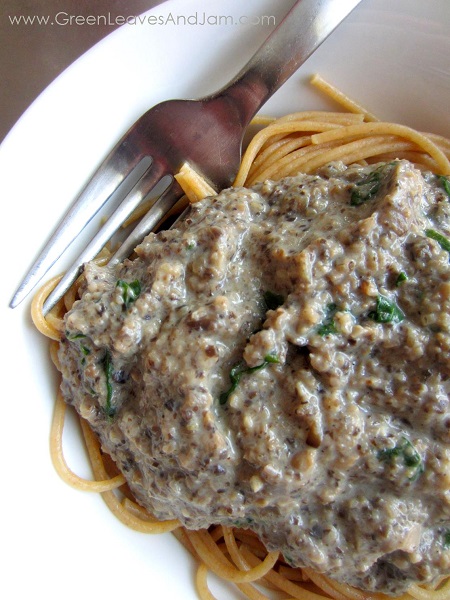 Mushroom and Spinach Pasta Sauce
Author:
greenleavesandjam.com
Ingredients
12 button mushrooms, chopped
4 cloves garlic, minced
2 tbsp vegan butter
1 tbsp whole wheat flour
1 cup non-dairy milk, unsweetened
½ cup non-dairy plain yogurt
¾-1 cup packed fresh spinach
Pepper to taste
Sea Salt to taste
Directions
Cook pasta noodles according to packaging.
Spray a pan lightly with cooking spray and place your chopped mushrooms and minced garlic in the pan. Cook over medium-high heat until soft, this took about 4 minutes for me.
Place the cooked mushrooms and garlic into a separate bowl and return the pan to the stove-top at medium-high heat. Place the butter in the pan and stir it constantly until melted. Add in the flour and whisk it together with the butter.
Add the milk into the butter and flour mixture and stir until combined. Remove about ½ cup of the warm mixture and while stirring, slowly add the mixture to your ½ cup yogurt (If you add it directly to your pan the yogurt will curdle). Once it is well combined, pour it into the pan with the rest of the milk/butter/flour mixture and stir. Add in your cooked mushrooms and garlic.
*My husband doesn't like big chunks of mushroom in his food so I chose to then place my sauce into a food processor and let it pulse for a bit to break it down more, but if you like it with bigger chunks then you can skip this step.
Stir in your spinach and bring it back to a boil and let it boil until your spinach is wilted. This again took about 4 minutes for me.
Serve over your favorite cooked pasta noodles.
If you decide to give this recipe a try, come back and let me know what you think. I'd love to hear your thoughts.
Kristin