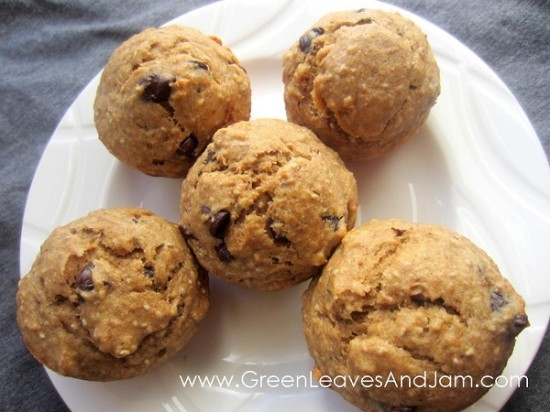 I love banana bread! I love it when I realize that we weren't able to use up all our bananas in our smoothies. Although most of the left-over bananas are chopped up and thrown into our freezer, I still sometimes take advantage of the opportunity and make a batch of banana bread. These muffins are really tasty and much healthier than your typical banana bread recipe. In fact, there is half the sugar amount in these than my old recipe and more than 1/3 the fat/oil amount. You can finally make banana bread and not feel guilty about eating a muffin or two… or three. My husband and I both thought that these tasted a lot like our old recipe, just leaps and bounds healthier!
I also really love the little bit of crunchy element that the chia seeds bring to this recipe. I love to use chia seeds in things and often try to just put them into random things like my salads, pancakes, oatmeal…etc. I'm a fan.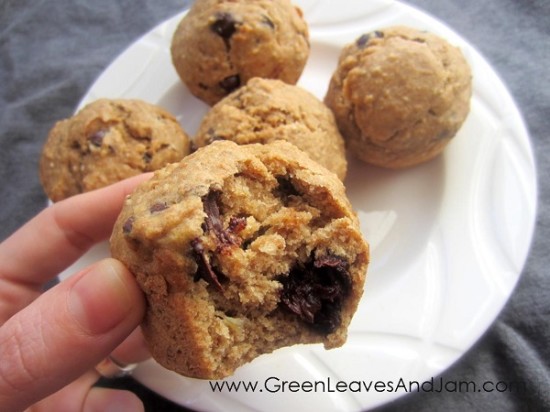 Plant-based Banana Bread
Makes 1 dozen muffins
Author:
greenleavesandjam.com
Ingredients
2 cups whole wheat flour
1½ tsp baking powder
½ tsp baking soda
¼ tsp salt
¼ tsp cinnamon
⅛ tsp nutmeg
2 tbsp chia seeds
½ cup sugar
3-5 bananas (at least 1½ cup bananas), mashed
½ cup apple sauce
1 tsp vanilla
¼ cup non-dairy milk (I use unsweetened soy milk)
⅓ cup melted vegan butter**
½-2/3 cup chocolate chips
Directions
Preheat oven to 350 degrees. Place all the dry ingredients into a bowl and stir until combined. Add in the dry ingredients and mix until well combined. Grease your muffin tin and fill each muffin cup about ¾ full. Bake in the oven for 22-25 minutes.
**I have also used olive oil and coconut oil would also work if you don't have vegan butter.
I hope you enjoy these plant-based banana bread muffins!
Kristin