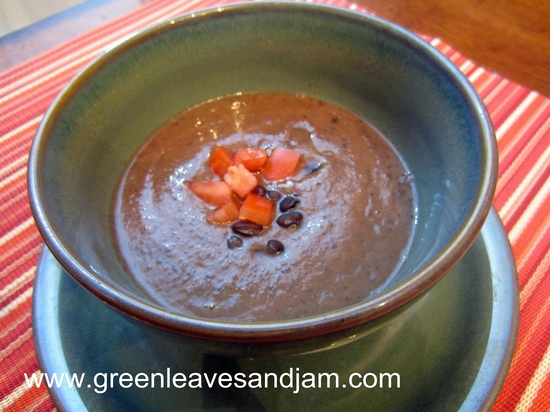 I love black bean soup.  The first time I had this was when I was visiting my daughter Stephanie in Idaho.  I volunteered to babysit the grandkids while she ran some errands, and she left a black bean soup recipe for me to fix for lunch.  I've since veganized (is that a word?) the recipe and I love it!   By eliminating oils and replacing animal-based ingredients with plant-based ingredients you can transform most of your favorite recipes.
The base recipe is super simple with just four ingredients – black beans, vegetable broth, salsa and cumin.  It makes a quick lunch or dinner solution when you don't have a lot on hand.  And these four ingredients are staples in my kitchen.  I buy black beans, broth and salsa in bulk at Costco and it is a permanent part of my shopping list.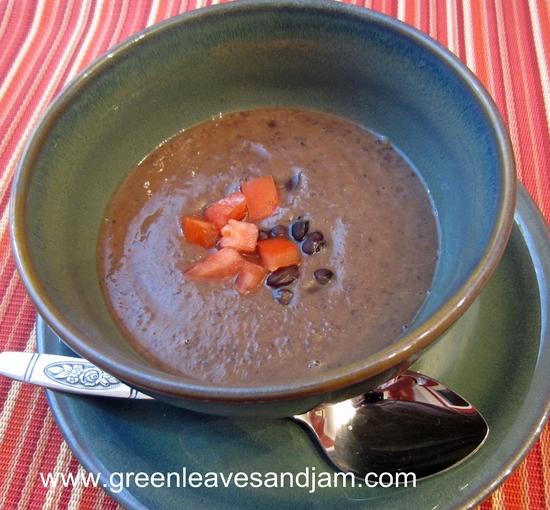 I almost always make it in it's simplest form, but if you want to ramp it up a bit you can add a sautéed onion and garlic, more cumin, and a dash of chili powder.  Also, you can add corn after blending and/or top with chopped tomatoes and sliced green onions.
When I make this Black Bean Soup, I tend to make a lot, but you can half the recipe if you want less.  And next time I make this I think I might try to see if I can make Kristin's Left-over Soup Burgers with it.  Yum!
I also use my left-over soups on tortillas for a delicious veggie burrito.  It works with all kinds of vegetable soups.  Just use a slotted spoon to transfer your soup into a microwave-safe bowl, heat it up and scoop onto a warmed tortilla.  Once we left the black bean soup warming on the stove too long and it had cooked out most of the moisture. It was yummy as a bean burrito!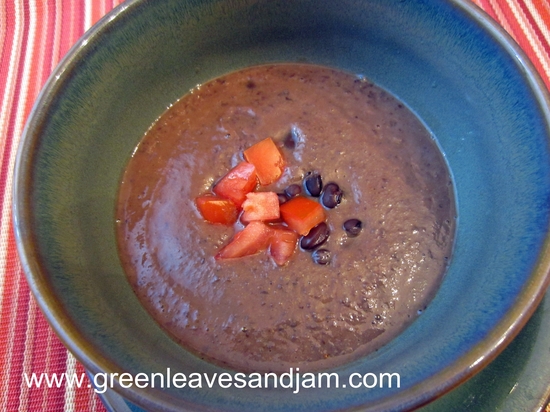 Will Black Bean Soup become a family staple at your house?

Black Bean Soup
Quick and easy soup, perfect for lunch or dinner
Author:
greenleavesandjam.com
Ingredients
5 cans black beans, drained and rinsed
3 cups vegetable broth
2 cups salsa
1 tbsp cumin
optional additions:
1 onion, diced
2-3 cloves garlic
1-2 cups frozen corn, thawed
green onions, sliced
tomatoes, sliced
Directions
Combine 4 cans beans, broth, 1-1/2 cups salsa and cumin in a blender or in a pot
Blend until mostly smooth in blender or with hand blender in pot
Add 1 can beans, ½ cup salsa and heat to warm
Add sautéed onion and garlic and corn for a chunkier soup, optional
Top with green onions and tomatoes, optional
Use medium or hot salsa for a spicier option
I hope you enjoy this Black Bean Soup as much as we do.
Enjoy!  Julie