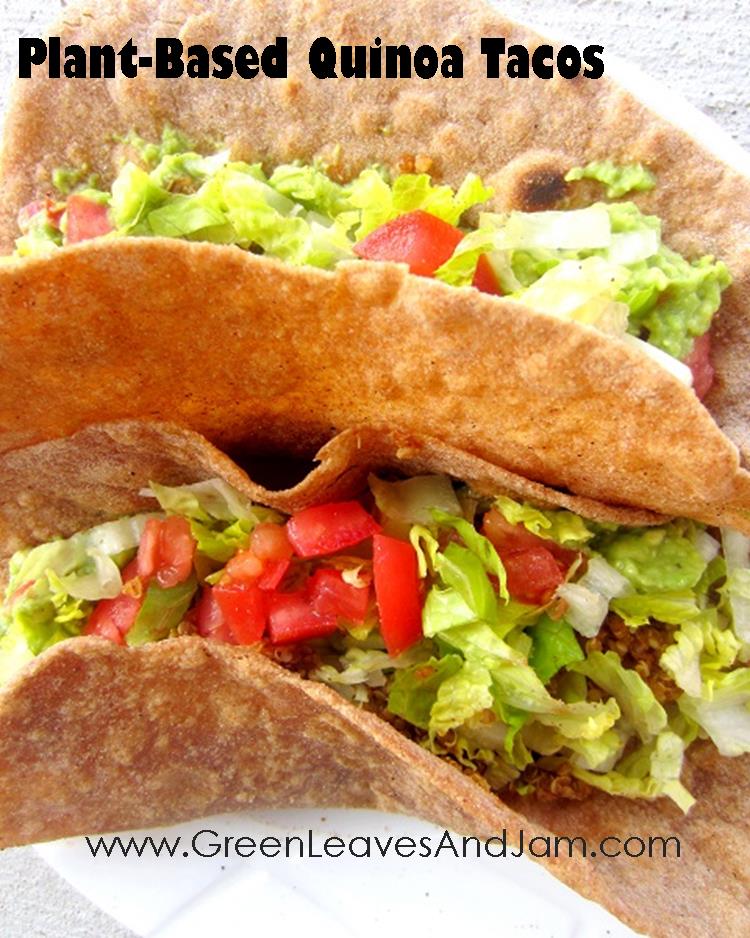 Let's talk about tacos. I love tacos. There is just something about that taco seasoned "meat" mixed with lettuce, tomatoes, a carb (the tortilla), and guacamole. I don't always make guacamole to go with my tacos, but when I do, man is it worth it!
We have been making plant-based tacos for a while now but we always made the "meat" with lentils. This was good, but we got kind of sick of them after a little while because they were a little too soft and the lentil flavor masked some of that awesome taco seasoning flavor that we love so much. Then one day it dawned on me, why not try quinoa. So I did, and we've been eating it with quinoa ever since. The quinoa really takes on the taco seasoning flavors The texture of the seasoned quinoa is also so similar to regular taco meat, the ex-carnivore in me just loves that! One of the best part about this recipe is that it is easier than the non-plant-based version too. Before you had to watch your meat carefully and stir it often. With this recipe, you add your taco seasonings into the cooking quinoa and that's it. No stirring, no nothing!
Yes, if you look closely at my tortillas you will notice that they are home-made. You don't have to home-make the tortillas to have an awesome taco. To be honest, I had started making the "taco meat" when I realized that I didn't have any tortillas, so I had to make them. There is something really wonderful about a homemade tortilla though, so if you feel up to it, it's worth it! Also, don't forget about the Flavorful 4 Ingredient Guacamole. This makes a GREAT taco topping!
Now for the recipe:

Plant-Based Quinoa Tacos
Author:
greenleavesandjam.com
Ingredients
1 cup uncooked quinoa
2 cups water
1 packet taco seasoning
Taco dressings
Directions
Place your water in a pot and heat it over the stove until it begins to boil.
Add your taco seasoning to the water and stir just a bit.
Rinse your quinoa well and then add it to the boiling water. Cover with a lid and reduce the heat to a simmer. Let it simmer for 20 minutes. Once the 20 minutes are up remove it from the heat and stir it a little. Cover it again and let it sit for about 5 minutes or until it is an edible temperature.
For the dressings we like to use lettuce, tomatoes, guacamole, peppers...etc.
Hope you enjoy your Cinco de Mayo and take the time to really make it fun for your family by making some plant-based quinoa tacos!
Kristin