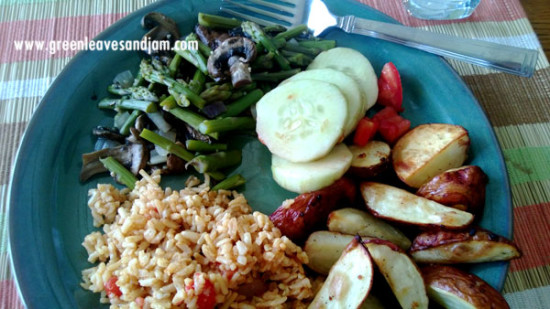 If you are like me sometimes you are throwing meals together at the last minute with not a lot of planning.  Honestly, many (too many!) of my meals are like that.  We pick up a box of produce every Thursday from the local health food store.  The produce is from a local farmers coop and it is a little like buying a grab bag.  We never know what we are going to get in our box.  Most every week we get a variety of salad greens and of course we make a large salad with the variety of greens we receive.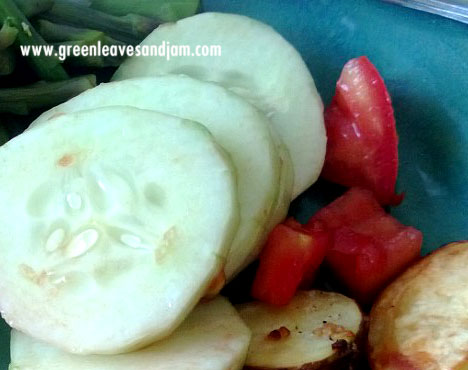 Many times we receive vegetables that previously I had never heard of.  You may remember my posts on ramps and kohlrabi.  I think that is one of the many things I like about getting this box of produce, discovering new vegetables, because I'm positive that I never would have gone out looking for ramps or kohlrabi!  Recently, while my mom was visiting, I shredded kohlrabi and added it to our bean tacos, which was yummy.  Kohlrabi is part of the cabbage family and has a 'sweet, cabbage taste' as my mom described it.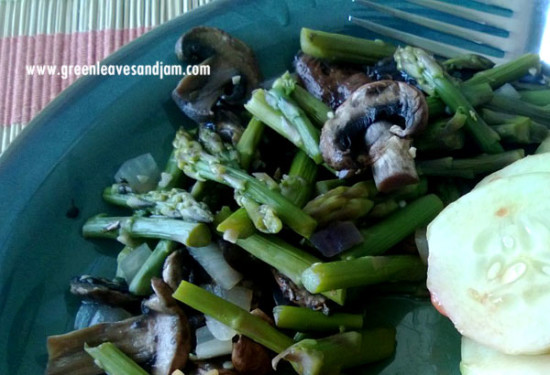 This past week we got a tomato, a small bag of red tomatoes, a couple of large cucumbers, a good size bag of asparagus and a variety of greens including garlic scapes.  Sunday this was the 'produce-box' meal I threw together after taking everything out of the refrigerator and examining it on the counter: cumcumbers and tomatoes in pomegranite balsamic viniagrette, asparagus with mushrooms, roasted red potatoes and left-over spanish brown rice.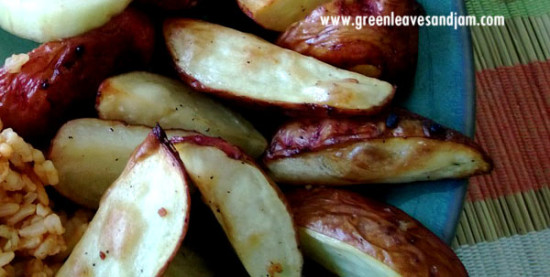 I did not grow up eating asparagus, and frankly, I was a little intimidated by it, until I discovered a few years ago how much I like it and how easy it is to cook.  If you've never cooked asparagus before, here's my simple how-to.  First the end is very stiff and stringy, so bend your stalk at the end until you feel the breaking point, then just snap that off and discard it.  After I remove the end, I like to snap the asparagus into bite size pieces and pan sauté.
Sunday I had some chopped red onion and baby bella mushrooms so I cooked that up with my asparagus.  I decided to make a simple salad with the tomatoes and cucumbers.  And the red potatoes in my produce order ranged from very small to medium, so I chose to cut them in wedges and roast them.  I've included all these simple recipes below.

Asparagus and Mushrooms
Author:
greenleavesandjam.com
Ingredients
2 cups asparagus, bite-size pieces
1-2 cloves garlic
¼ large red onion, chopped
6 oz baby bella mushrooms, sliced
½ cup vegetable broth
Directions
Saute garlic and onion on medium heat in ¼ cup vegetable broth for about 2 minutes.
Add the asparagus and additional broth and cook for 5 minutes.
Add sliced mushrooms, add more broth if needed, reduce the heat to low, cover with a lid and cook, stirring occasionally, until the vegetables are cooked through and tender.
Quick Cucumber and Tomato Salad
Author:
greenleavesandjam.com
Ingredients
2 large cucumbers
1 large tomato
1 tbsp olive oil
2 tbsp pomegranate balsamic vinegar
Directions
Slice or chop the cucumbers and tomatoes.
Place the vegetables, oil and vinegar in a bowl with a tight fitting lid.
Gently shake the bowl until well mixed.
Oven Roasted Potatoes
Author:
greenleavesandjam.com
Ingredients
8-10 red potatoes
1 tbsp olive oil
1-2 cloves garlic, minced
1 tsp salt
½ tsp black pepper
Directions
Preheat the oven to 400 degrees.
Cut the potatoes into wedges.
Place the potato wedges, oil, garlic, salt and pepper in a large ziplock bag or a bowl and toss.
Spread the wedges in one layer on a baking sheet and roast in the oven for 45 minutes to an hour.
I hope this simple plant-based meal of asparagus, roasted potatoes and cucumber salad gives you some ideas to quickly put together a home-cooked meal.  You may want to check into a produce coop in your area, especially if you want something to help you get out of a vegetable rut.  I love getting the variety every week and learning about new plants to eat.  Every little plant we eat has such an amazing array of nutrients.
Leave a comment:  What's your favorite simple plant-based dinner?
Enjoy!  Julie