I have always been a fan of fried rice. Before we decided to change our diet I would often make fried rice for our dinner meal, so I am happy to introduce you to a good alternative from your regular egg and chicken fried rice.
We really enjoy this meal! This was one of the meals that my daughter downed quickly then promptly asked for more. It was pretty easy to make as well as long as you have the rice cooked ahead of time.
When I opened up my pictures and began editing them I started getting a craving for brussel sprouts. Weird huh?lol But guess what I did right then and there… Paused my photo editing and headed to my kitchen to cut up some brussel sprouts.  So guess what I'm snacking on while I write.. Yep! You guessed it!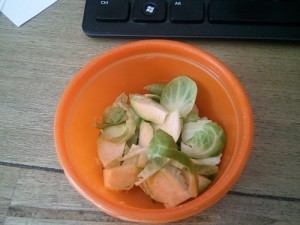 But like I was saying earlier, this is a great side, or meal for your family that is fun and fairly simple to make. For shaving the carrots into little slices I have a cool little tool that came with my mandolin slicer that works perfect, but you can use a cheese grater with just as much success.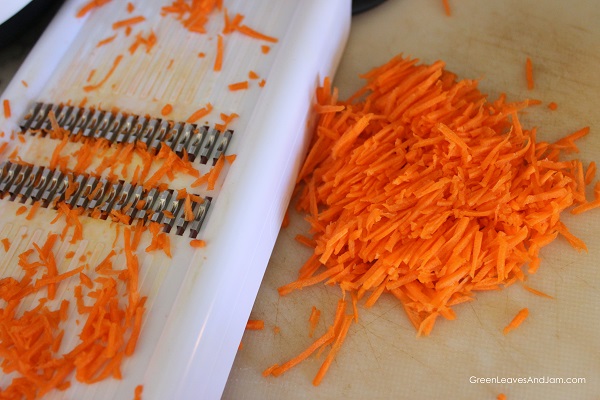 If you've never cut brussel sprouts before, here is a link to a lady's youtube video with a tutorial that pretty much sums up how I cut mine. Maybe one of these days I will actually make my own video! I use the second cutting method for this recipe: https://www.youtube.com/watch?v=gsZSx9Vrf_c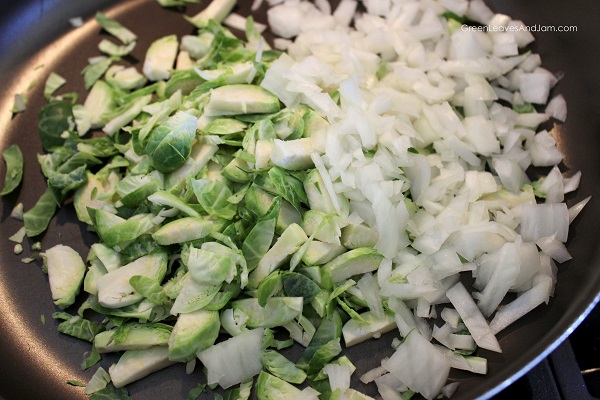 Plant-based Fried Rice with Brussel Sprouts
Author:
GreenLeavesAndJam.com
Ingredients
2 cups chopped brussel sprouts (this was about 14 of them for me)
½ medium yellow onion
2 tbsp oil
1 tsp low sodium soy sauce
3 tbsp brown sugar OR 1½ cup corn (optional, see notes*)
½ cup grated carrots
½ cup frozen or fresh peas
2 tbsp low sodium soy sauce
1½ tbsp sesame seeds
4 cups cooked brown rice
Directions
Chop your brussel sprouts and slice the medium onion and place them in a large pan along with the oil, soy sauce, and the brown sugar (if you choose to use brown sugar), and saute over medium heat. Cook them for 3-5 minutes or until your onions and brussel sprouts begin to cook, but are not charred. Allow this to saute while you grate your carrots.
Add your grated carrots to your pan along with the frozen peas (If you choose to use the corn, add it in here as well). Cook over medium heat, covered, for 10 minutes while stirring occasionally.
Add in your 2 more tablespoons of soy sauce, cooked brown rice and sesame seeds and allow it to saute together another 2-3 minutes to allow the flavors to blend together.
*The brown sugar is there to add a little bit of a sweet taste to it, but when I make it for my family I use corn instead for a more natural way to add the sweet flavor. If you wish to not have the sweet flavor at all though you can simply omit the "sweeteners" completely.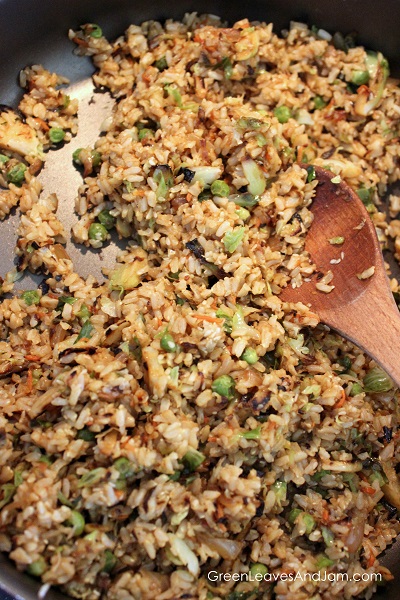 We had such a fun 4th of July weekend with my sister and her family in town. Here is a sweet picture of Sydney with 2 of her cousins.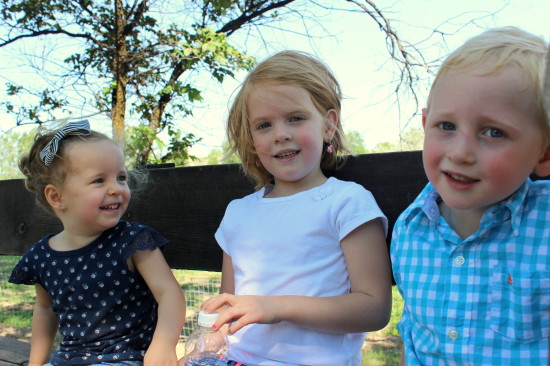 And a picture of me and my cute kiddos and awesome husband.:)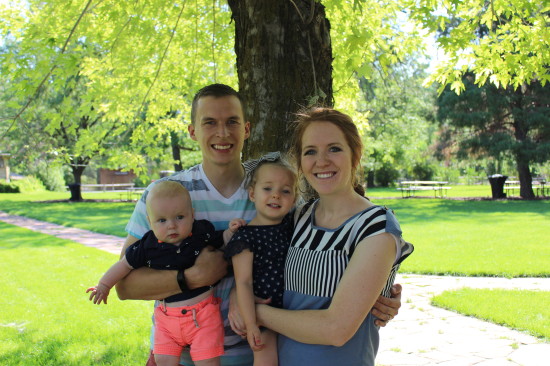 Hope you had a great July 4th weekend!
Kristin