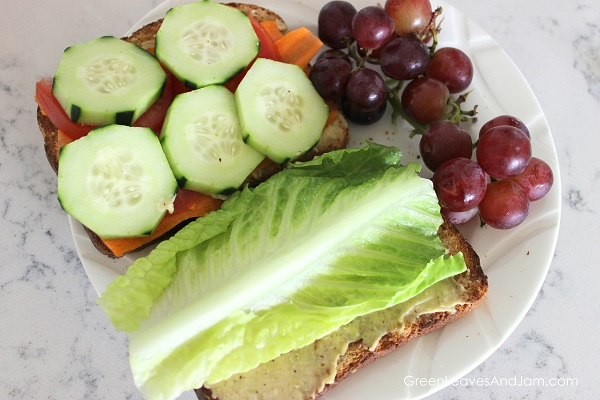 Happy Almost 4th of July! I LOVE July 4th. It is so fun to celebrate our great country here and I love seeing all the red, white and blue everywhere!
Our house is coming right along! We now FINALLY have our laminate floors (after 2 weeks of delays.. they came back 2x and both times the floor couldn't be installed for one reason or another..)! I could not be more happy with these floors too. I am waiting until our island top is installed and our baseboards are at least installed before I take pictures to do a before and after. But it's looking great and we LOVE it! If you look really closely at the last picture in this post of the muffins you can catch the tiniest glimpse of our new floors.
Sydney's 3rd birthday is coming up in a few weeks and we are going to have a little birthday party for her. She is finally at the age that I think she'll actually get all excited and understand that the party is for her. I am a total dork and have had the entire thing planned out from decorations to food and games planned out since a few weeks ago. I really enjoy throwing a good party and am so happy to have a reason to plan one! I asked my friend this morning what a "normal" time would be to send out the invites would be.. 2 weeks? That's what we decided. I made the invites yesterday and am DYING to send them out now.lol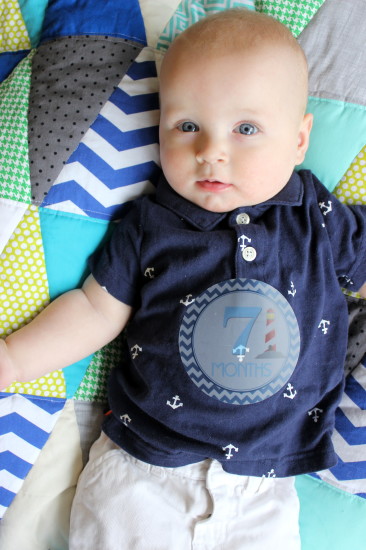 My little guy is 7 months old as well. Believe it or not this was the best picture I could get of this kid. As soon as = Rome realized that sticker was on his belly he was pulling it up towards his mouth. Funny kid.
In the title I stated that I crave these sandwiches daily, and that is not an exaggeration! They are so tasty and always leave me super satisfied! The mix of flavors and textures is awesome! One of the best things about it is that you can totally personalize it too. If you don't like carrots, or you just don't have them, put something else on it. You can go as simple or extravagant as you would like. I made mine with hummus, tomato, cucumber, carrot shavings (I used my potato peeler to get my "shavings"), romaine lettuce and pepper.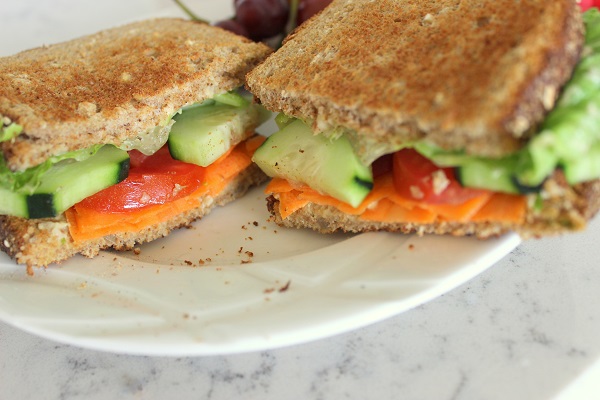 Sydney requested just carrots, cucumber and hummus for hers. You can toast the bread like I like to do, or just leave it plain like my daughter likes.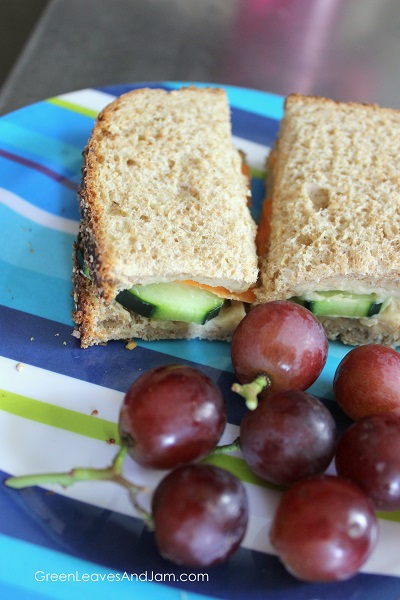 Another funky favorites of my daughter's is to do peanut butter and cucumbers. Odd, I know, but she loves it!

Veggie and Hummus Sandwiches, the sandwich I CRAVE daily!
Author:
GreenLeavesAndJam.com
Ingredients
2 slices of whole wheat bread
hummus (I use regular, but you can use whatever flavor you'd like)
Any combo of the following veggie options:
cucumbers
carrot shavings (I use my potato peeler to get my "shavings")
tomatoes
romaine lettuce
spinach
avocado
pepper slices
onions
sprouts
Any other veggies you enjoy!
Directions
Prepare your veggies by slicing them.
If you want to toast your bread, do so now.
Remove toast from toaster and spread on a generous amount of hummus on both pieces of toast.
Sprinkle on salt and freshly ground pepper. If your hummus has a lot of flavor or salt you can omit this step.
Pile your veggies on top of one of the hummus slathered pieces of toast and top with your second piece of toast
ENJOY!
We also made our Spiced Carrot Cake Muffins this morning for a fun snack as well! Give them a try. They're a regular in our home.:)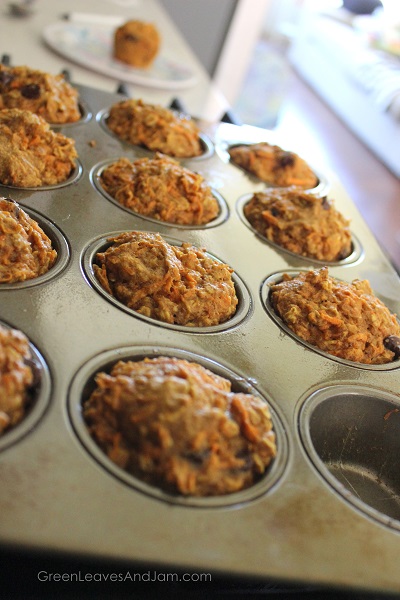 Thanks for stopping by!
Kristin