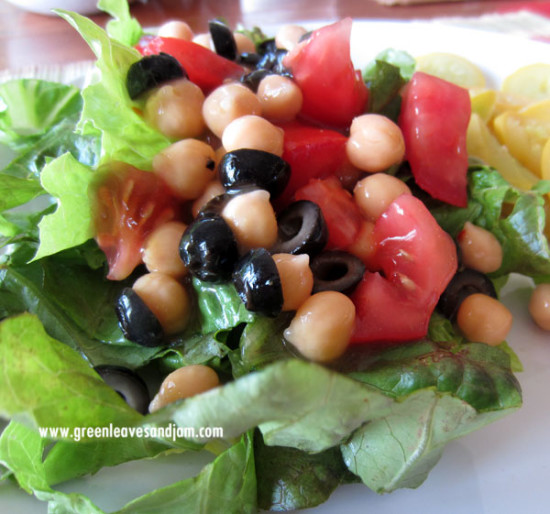 The summer hot weather is officially here. We're all looking for cool offerings for lunch and dinner. This Summer Fiesta Salad is right on target and it comes together very quickly.  Totally healthy, totally vegan.
We've had very busy days at our house the last couple of months.  Last month our son James graduated from high school.  The last weeks of school are always really busy with spring concerts and finals.  James performed two numbers in the spring pop concert, singing and playing the guitar.  After the concert, a friend asked us, "How did you guys end up with such a cool son?"  Ha!  In addition, he played in the final band concert (with a drum solo) and in the last choir concert.
When hubby Ron and I arrived at the choir concert, we noticed James's name listed as a soloist on one of the final numbers.  I asked Ron, "Did James tell you about this?"  He answered, "no."  So we waited.  The song was Taio Cruz's Dynamite, a dance number.  When the song started, James and two of the other boys came out from the back of the choir, took their jackets off, threw them on the ground and started dancing and singing!  It was so much fun and I'm so disappointed I don't have a video of it!  If I did I would definitely share it with you.
This summer salad is a fantastic solution for a busy day, and it has loads of flavor.  The creation of this salad was absolutely by accident, but I'll spare you all those details.
Here's the easy assembly: open a can of green enchilada sauce, a can of sliced olives and a can of garbanzo beans, combine them all with a couple of chopped tomatoes and top your salad greens with the mixture.  That's it!
The green enchilada sauce has a bit of a kick which is why this salad has so much great taste.  And the combination of the olives, chick peas and the tomatoes almost looks patriotic.  This might be the perfect salad for your 4th of July picnic.  Maybe?  What do you think.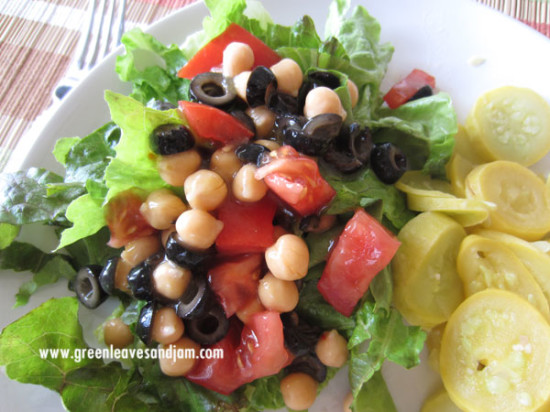 Fiesta Summer Salad
This fiesta salad is great for summer with wonderful flavor and beautiful color. Perfect for your summer picnic.
Author:
greenleavesandjam.com
Ingredients
1 can garbanzo beans, drained and rinsed
1 can sliced olives, drained and rinsed
2 tomatoes, chopped
1 can green enchilada sauce
salad greens, chopped
Directions
Combine green enchilada sauce, sliced olives, garbanzo beans and chopped tomatoes. Refrigerator until ready to serve.
Top your salad greens with the bean mixture and serve.
Enjoy your summer!  Eat healthy!  This Fiesta Summer Salad will help you with that.  Be safe!  And most of all enjoy your family!
Julie